Indonesia LAB
To celebrate Indonesia's appearance as guest of honour at the 2015 Frankfurt Book Fair, German and Indonesian artists have teamed up for Indonesia LAB.
09.10.2015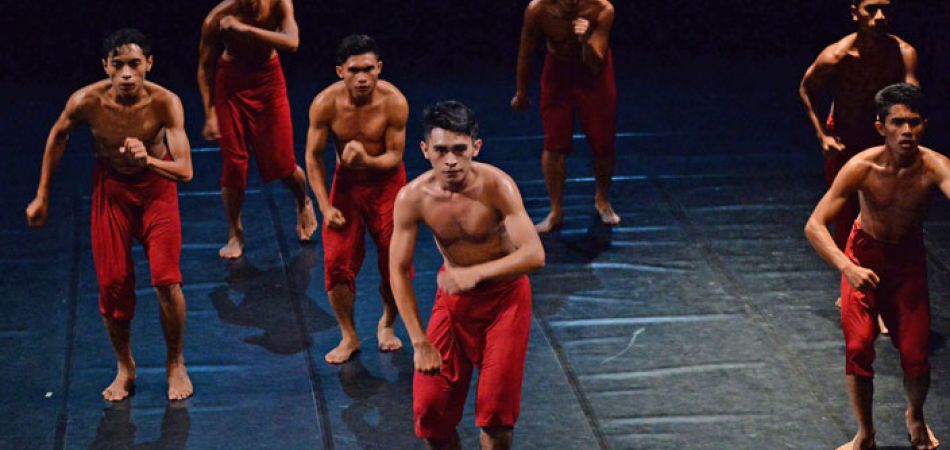 Their movements are fluid and highly expressive. As they dance to the rhythm of electronic beats and hypnotizing sounds, their audience is transported into a different world. Their performance needs no breath-taking costumes nor any lavish stage set. In semi-darkness, and dressed only in red Bermuda shorts, the seven young men from Jailolo, a remote region on the Indonesian island of Halmahera, imitate the movements of fish swarms – in an attempt to raise awareness of their island, which is under threat from overexploitation and climate change.
"Cry Jailolo" is the title of this work by Eko Supriyanto. Currently one of Southeast Asia's leading choreographers, he has already worked with pop star Madonna and American theatre director Peter Sellars. Together with numerous other artists, composers, musicians and dancers, Supriyanto is taking part in Indonesia LAB with "Cry Jailolo". This joint German-Indonesian cultural project was initiated in the summer of 2014 by the six Frankfurt LAB partners – the Ensemble Modern, the Künstlerhaus Mousonturm, the Städelschule and the Portikus, the Hessische Theaterakademie, the Hochschule für Musik und Darstellende Kunst and the Forsythe Company – and by the Goethe-Institut Indonesia and the KfW Stiftung.
Festival in Frankfurt and Jakarta
Indonesia LAB is focusing on the world's fourth-largest nation with its population of 240 million and its innovative and constantly changing art scene. Art in Indonesia has always been influenced by the country's social and cultural diversity which gives rise to ever new forms of cultural expression and projects. Indonesia LAB brings together talented artists from Indonesia and Germany and develops new ways of looking at the interplay of art and society in the international context. The numerous artists taking part include the painter Ade Darmawan, who explores sociocultural trends in urban society in his "Magic Centre" exhibition, and the artists' collective "Ruang Suara", which together with the Ensemble Modern presents contemporary music from Indonesia. In the autumn of 2015, the final Indonesia LAB festival will take place simultaneously in Frankfurt am Main and Jakarta – before and during the Book Fair in Frankfurt and as part of the "German Season" in Jakarta.
www.mousonturm.de/web/de/projekte/indonesia-lab
www.kulturstiftung-des-bundes.de/cms/de/projekte/buehne_und_bewegung/indonesia_lab.html