Writing in exile
Return to a life as a poet: how German authors help refugee writers.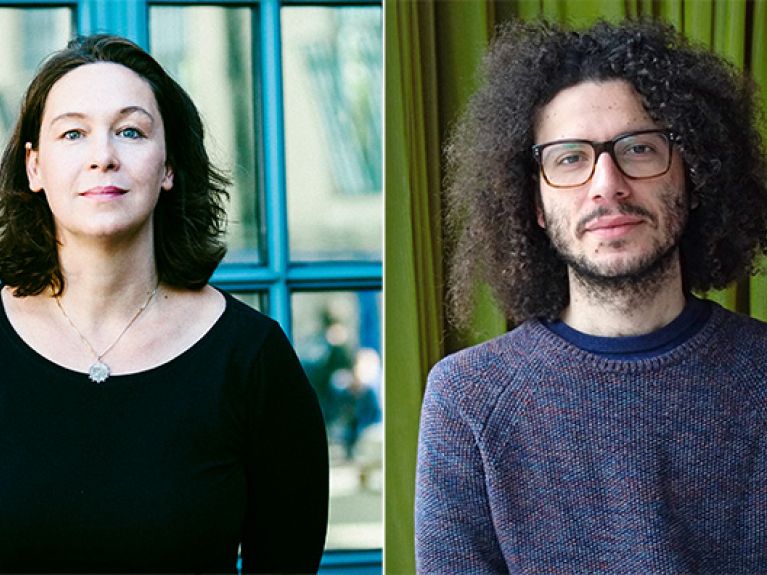 "Telling stories means having hope," says Rafik Schami, the author who fled Syria and moved to Germany almost 50 years ago. Not being able to tell stories is all the more painful for authors – because they often have no opportunity to publish their works in exile. That's why the Weiter Schreiben project organises partnerships with German writers.
The idea behind the project is that authors like Saša Stanišić and Nino Haratischwili give refugees access to the German cultural and literary scene through their personal networks and help them to receive translations of their works. The poet Monika Rinck and the Syrian-Palestinian writer Ramy Al-Asheq are also working together as part of the project. They talk about it here.
Monika Rinck – "The temperature of the text"
"When I heard about the Weiter Schreiben project, I was immediately drawn to it. I consider it vital that the people who come to us are given an opportunity for personal artistic expression. Translations are especially important – in order to enable authors to show what they can do. That applies all the more with regard to poetry, as in the case of Ramy Al-Asheq.
At only our second meeting we translated one of his longer poems into German. An English translation already existed, so we were able to use that as a bridge. I don't make a big distinction between getting to know someone personally and working together on texts: talking about poems is a good way of establishing contact and creating a resonance space.
The collaboration worked well from the very start. First of all, Ramy recited the text in Arabic. I don't understand Arabic, but that didn't matter – it was all about the speed, the metre, the breaks, the pauses, the temperature of the text, so to speak. I had already read translations of some of his texts before and been impressed, but it is still something very different when he recites them himself.
Ramy's poems are very good, and I am pleased to be allowed to translate them. When the German versions are finished and we are satisfied with them, I will also be glad to help him publish them – for example, in literary magazines that specialise in poetry.
This is a long-term project for me, one that will involve the next few years. During that time I would like to meet with Ramy more frequently than I have so far. The problem is that you only really earn money as a poet when you go on reading tours. I rarely spend a long time in one place. In some months I only spend two or three days at home in Berlin. At the same time I'm convinced that the best meetings take place in person and not on Skype."
Monika Rinck was born in 1969 and has won numerous literary prizes for her remarkable poems, including the Kleist Prize in 2015. She also translates into German from English and Hungarian, cooperates with musicians and composers and has taught, among other places, at the German Institute for Literature in Leipzig.
Ramy Al-Asheq – "The meeting was a turning point"
"The most important thing for a writer is being able to carry on writing. And I know how you write. But I don't know how I can earn my living by writing in Germany. Many publishers have told me: 'We are not interested in translating Arabic literature.' Others said: 'We don't publish poetry – if you wrote novels, we would perhaps be able to think about it.' When you turn up with poems, you almost always come up against closed doors.
For a moment I even thought about giving up. I also write prose – I could therefore have written novels for German readers and poetry for an Arabic-speaking audience. The meeting with Monika was a turning point. We immediately began working together – somehow she understood my style straight away. We spent four hours polishing wordings and eventually managed a complete long poem. It was wonderful for me to hold this work in German in my hands! Especially since the text came from a German poet and not a translator.
Cooperating with Monika is a process, and we have already almost become friends as a result. We both work with poetry, live poetry, think about it every minute of the day. This partnership is very motivating – two people with completely different languages, histories and skin colours, with different attitudes and backgrounds, communicating through poems. Before that I had written nothing at all for seven months.
I consider it important to give something back to exile, to contribute to its language, mentality and culture. And Germany – the people, the country, the culture, the location – deserves to be more than an exile. I hope that one day it will be my home, even if I cannot call it that yet."
Ramy Al-Asheq was born in 1989 in the United Arab Emirates and grew up in Damascus. During the Syrian Revolution he was arrested, but fled to Jordan after his release. He came to Germany in 2014 with a writer's scholarship from the Heinrich Böll Foundation. He lives in Cologne, where he has founded an Arabic-language newspaper, Abwab.
Transcripts: Helen Sibum