The comeback of dirndl and lederhosen
Originally work clothes in the village, later festive attire for the Oktoberfest, now hip outfit: traditional costumes are trend. The young designer scene is going back to tradition, high-quality materials and handicraft.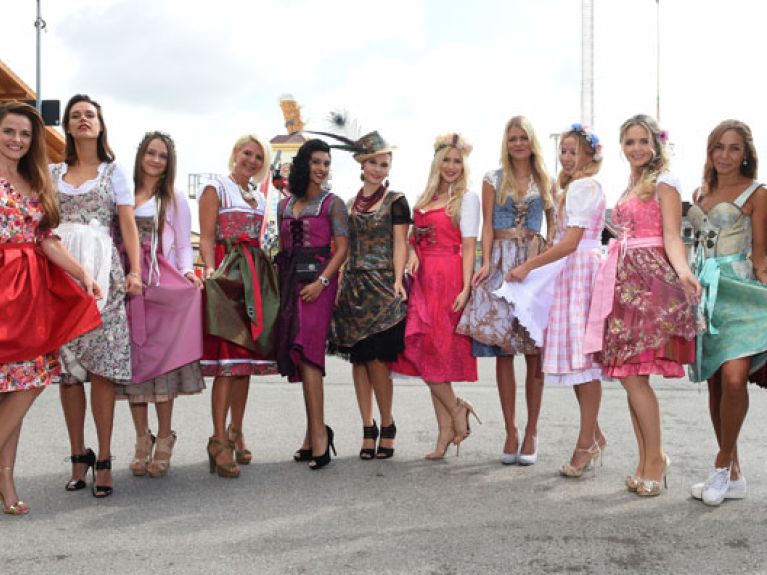 Germany. Tradition and trend need not be mutually exclusive. And not at all in fashion. The great German traditional costumes manufacturers Angermaier and Lodenfrey exemplify this: they send their dirndls to Abu Dhabi and sell lederhosen in the U.S.A. A million dollar business. And in Germany too people no longer wear dirndls and buckskin only to the Oktoberfest in Munich, but also at weddings and theme parties, on the Rhine and on the Elbe. But after years of the plastic dirndl off the rack, German designers, and their customers, are increasingly going back to tradition. For example, the designers of the Munich label Gottseidank. They have created a veritable statement dirndl: muted colours, strict forms, German handicraft down to the tips of the sumptuous blouses. Not extravagance, but rather elegant understatement.
Dirndl meets punk
Lola Paltringer delivers an opulent counter design to this with her playfully punk and humorous eccentricity: lush rose embroidery and loop appliqués, even embroidered comic scenes, cover her negligées. A student of Vivienne Westwood and graduate of the fashion school ESMOD, she soon became the styling favourite of the stars. The eccentric epicentre of her work is the bespoke atelier for traditional costumes in the centre of Munich, which the native Mannheimer runs with her mother. 
Nostalgia in Sissi style
The Austrian Empress Sissi is the inspiration of the Munich designer Julia Trentini. Her designs are marked above all by girlish nostalgia and ladylike elegance. The brand name, "Fräulein Trentini" (Miss Trentini), says it all: smart and feminine, quite in the style of Sex and the City star Sarah Jessica Parker, who counts a Trentini dirndl among her high-profile wardrobe.
It is a woman from Hamburg, of all places, who combines the three Munich labels and other well-known designers under the umbrella of her traditional costume shop Limberry. Since 2013, Sibilla Kawala, a PhD in business economics, has also offered her own costume collection at her online shop along with a Dirndl-Konfigurator (dirndl configurator), which has already won her a few start-up awards.