Münster in Westphalia
Mayors reveal their insider tips in the deutschland.de series "My city". Part 3: Mayor Markus Lewe talks about Münster.
15.07.2013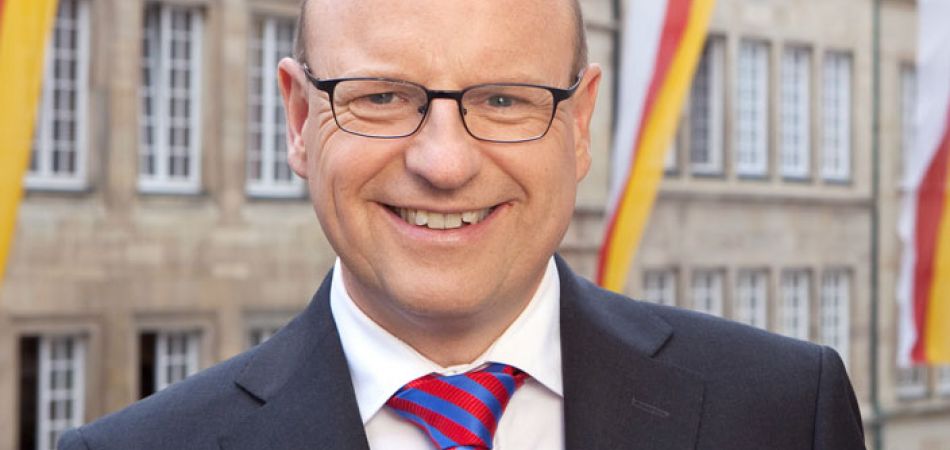 Mr Lewe, what is special about your city?
Münster is the science and lifestyle city. This is where down-to-earthness and progress, Töttchen and terabytes come together to form an exciting but harmonious overall picture. What on earth is Töttchen, I hear you ask? It's a typical speciality of Münster cuisine. It used to be a poor man's food, but today you'll find Töttchen on the menus of lots of restaurants in our city. One version is made with veal. It tastes really good, especially with a glass of delicious Pinkus Müller beer, another true speciality of our city.
What do you see when you look out of your office window?
I see the City Hall courtyard, which is named after the Peace of Westphalia, with the wonderful sculpture called "Tolerance Through Dialogue" by Spanish artist Eduardo Chillida. 
Where in your city do you most like to spend your time?
I most like to be where sculptures from the ten-yearly city-wide sculpture exhibition have found their permanent homes. The sculpture exhibitions have turned Münster into a globally recognized and expanding open-air exhibition of modern art that changes every ten years. I'm already looking forward immensely to the next exhibition in 2017. 
Which of your city's personalities do you value most?
From the past: Cardinal Clemens August Graf von Galen, who stood up to the Nazis as Bishop of Münster and has become known as the Lion of Münster. He was beatified by the Pope in 2005. From the present: the many committed citizens who do regular volunteer work; they are the real treasure of our city.
What would you like to show tourists?
The harbour. It has changed a lot in recent years. Today, one side of it reflects the flair and artistic esprit of a vibrant city, while on the other side of the harbour the industry of an almost bygone era can still be seen and felt. And our irrigation fields, a place of unique biodiversity and a bird sanctuary of European importance.
Where can visitors best get to know the people in your city?
At the weekly market, which is held every Saturday and Wednesday on Cathedral Square. Here you can enjoy Westphalian warm-heartedness while shopping, and practise the old Münster dialect words for eating ("Achilen"), drinking ("Picheln") and looking around ("Kneistern").
And where do you most like to spend your vacations? 
In the Alps, preferably with lake nearby – because of the good food and the fascinating landscape.