Advancing the cause of climate protection
The consequences of climate change mean there is no time to lose – that is why representatives of 35 countries are meeting for the Petersberg Climate Dialogue. This is what they want to achieve.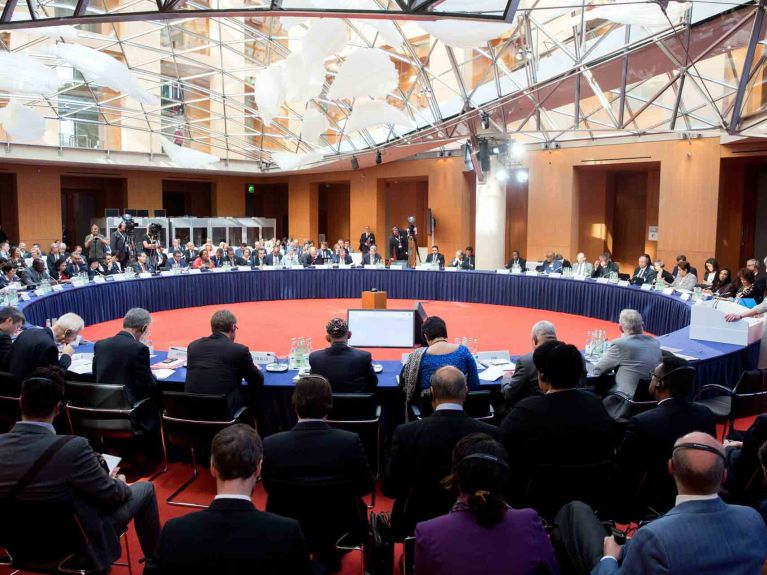 How can we advance the cause of climate protection, upgrade global climate targets and achieve climate neutrality earlier? These are central questions of the 10th Petersberg Climate Dialogue, which Germany's Environment Ministry is organising jointly with the Government of the Republic of Chile on 13 and 14 May in Berlin. The meeting is contributing to the preparation for the UN Climate Change Conference in Santiago de Chile (COP 25) in December 2019.
What is the most important subject at the 2019 Petersberg Climate Dialogue?
The price of carbon dioxide. Conference participants want to examine the model in Switzerland, which already began levying a carbon tax on fossil fuels in 2008 and pays part of these revenues back to its citizens through their health insurance contributions.
Who is taking part?
Ministers from some 35 countries have promised to attend. They represent different regions and belong to different negotiating groups of industrialised, developing and emerging countries. Chilean Environment Minister Carolina Schmidt will co-chair the gathering.
What is the function of the Petersberg Climate Dialogue?
It is an important intermediate step towards the next UN Climate Change Conference. The format has proved its worth over a period of almost ten years. Germany organised the first Climate Dialogue at Petersberg near Bonn in 2010. Federal Chancellor Angela Merkel launched the initiative to give renewed impetus to the negotiations that had become deadlocked at the Climate Change Conference in Copenhagen.
What are the advantages of this meeting format?
Although the Petersberg Climate Dialogue cannot make binding decisions, its informal character actually offers advantages. Representatives of the different countries can engage in discussions here in small groups and find supporters for their particular concerns. It is all about declarations of political intent with broad consensus. That saves time and coordination effort – in developing a solid foundation for debate at the 2019 UN Climate Change Conference.
Petersberg Climate Dialogue X live video stream (from 13 May 2019)
You would like to receive regular information about Germany?
Subscribe here: