Smartphones aid the harvest
How an app from Welthungerhilfe is helping farmers in Zimbabwe. Three questions and answers.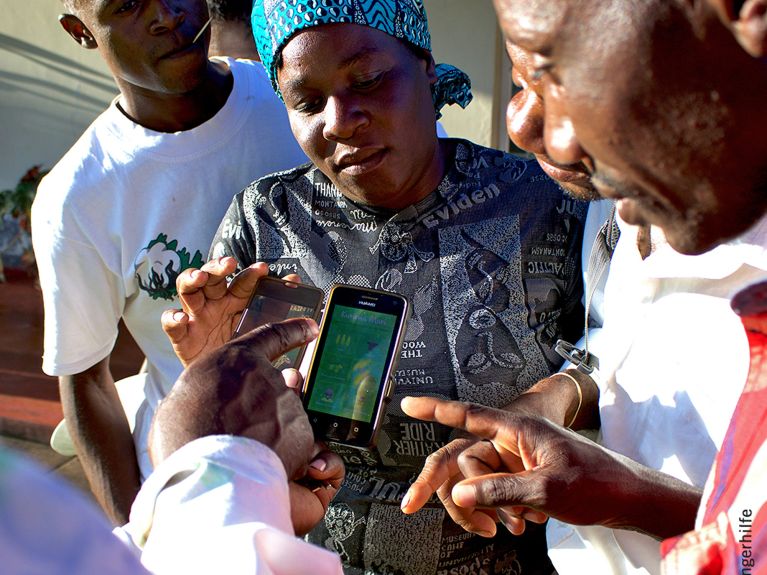 Climate extremes are threatening the livelihoods of small-scale farmers worldwide. Farmers rely on reaping a good harvest and on traders who will buy their produce, in this way ensuring farmers can make ends meet and to secure food supplies, aid organization Deutsche Welthungerhilfe is working increasingly on means of digital support. One example is the "Kurima Mari" app which is being used primarily in Zimbabwe.
What is the idea behind the app?
"Kurima Mari" roughly translates to "earning money through farming" – and that's exactly what it's about. Small-scale farmers and their families should be able to make a good living from the work they do. To support this, German aid organization Welthungerhilfe is providing training videos in the app, for example. These show how the farmers can adapt their cultivation methods to the changed climate conditions. What's more, users are also informed about price developments and can make contact with wholesale traders directly via the app. "The app aims to improve access to the market and provides advice for small-scale farmers," says Franziska Kerting from Welthungerhilfe.
So how exactly does it work?
The farmers download the app on their smartphones and can subsequently use it with or without internet access. "Most of the functions are available offline," says Kerting. This is important for small-scale farmers who don't have a stable network in their area or who cannot afford internet access. "Severe inflation in Zimbabwe has meant that internet use is becoming ever more expensive too," explains Kerting. That's why Welthungerhilfe is now developing a new version of the app in which even more content will be available offline.
What about farmers who don't have a smartphone?
According to Welthungerhilfe, digital infrastructure is growing and with it also the supply of smartphones in Africa. Anyone who doesn't have a device of their own can join up with other farmers to use the app. Almost everybody knows someone with a smartphone, Kerting says.
You would like to receive regular information about Germany? Subscribe here: