Together against climate change
Germany supports regions around the world in addressing the challenges of climate change. Three examples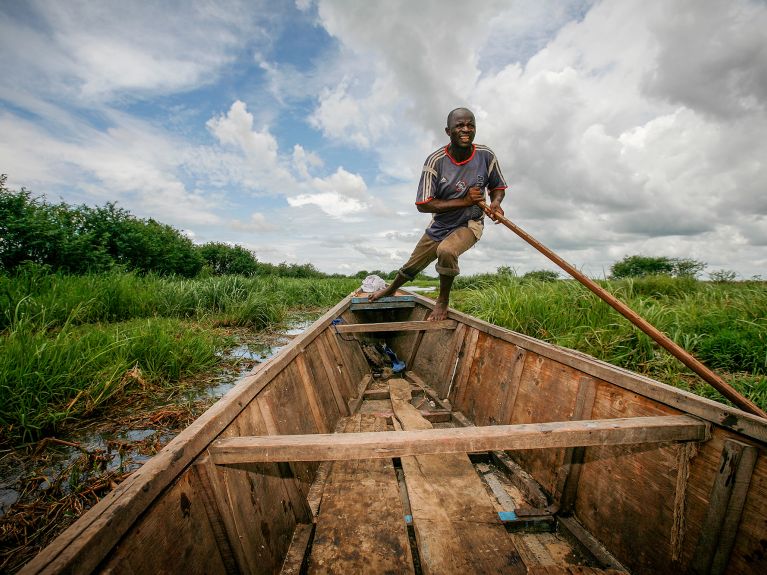 Worn down by hunger, civil war and Islamist terror, the Lake Chad region in West Africa is one of the politically most fragile regions worldwide. The extent to which climate change is contributing to this situation is being investigated by the Adelphi think tank as part of the Lake Chad Risk Assessment, a project that will run until 2020 and is supported by Germany. One of its main findings is that the largest challenge facing the region's inhabitants is not the drying out of the enormous freshwater lake, but the uncertainty about when to expect rain and periods of drought. Adelphi has already developed possible solutions: providing reliable weather data for the region and the cultivation of climate-resilient plants.
Central America: CCRIF provides climate risk insurance
Hurricanes are an especially destructive consequence of climate change. And they are increasing in frequency. They repeatedly wreak immense damage in the countries of Central America. The Caribbean Catastrophe Risk Insurance Facility (CCRIF) was established in 2007 to compensate for storm damage. Germany pledged 15 million euros to the facility at the 2018 UN Climate Change Conference in Katowice. This is part of the InsuResilience initiative that Germany launched during its G7 presidency in 2015. Its goal is to protect some 400 million people against climate risks by 2020. In 2017, during the German presidency of the G20, the initiative was expanded to form the InsuResilience Global Partnership. It aims to strengthen the resilience of the affected countries with insurance and financial solutions.
Asia/Pacific: Regional Pacific NDC Hub
Small island states are directly threatened by rising sea levels and hurricanes caused by climate change. It is therefore no surprise that they are massively investing in climate protection and working hard to reduce their greenhouse gas emissions or develop adjustment strategies. Germany is supporting them within the framework of the Regional Pacific NDC Hub, which was founded by the Prime Minister of the Republic of Fiji in 2017. The hub helps to develop investment plans, provide money, take account of climate issues in legislation, build regional partnerships and share knowledge. After providing initial funding of half a million euros, Germany pledged an additional five million euros at the 2018 UN Climate Change Conference.