Joining forces for the sake of the climate
Wind power, hydrogen and more: Germany and the US agree on climate and energy partnership.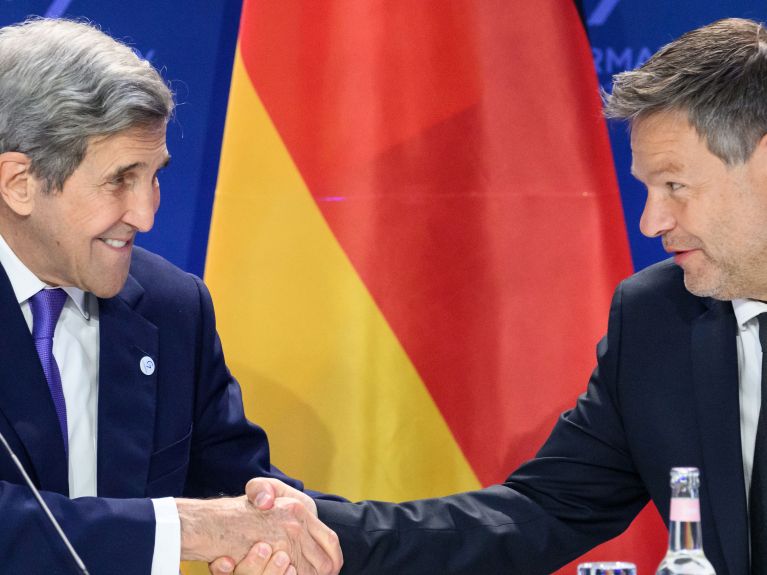 German Foreign Minister Annalena Baerbock ended her speech at the meeting of G7 climate, energy and environment ministers, which took place in Berlin at the end of May 2022, with an appeal to the political leaders assembled there: "We can shape the future together when we accept responsibility. We can ensure that millions of people see that international cooperation is worth it, because it makes their lives better for the future." At the G7 meeting, participants committed themselves for the first time to the target of predominantly decarbonised electricity supply by 2035.
On the sidelines of the meeting, Germany and the USA also agreed on a concrete step towards joint shaping of climate policy: Baerbock and German Economics Minister Robert Habeck joined US Special Climate Envoy John Kerry and US Deputy Energy Secretary David M. Turk in signing a declaration on a climate and energy partnership between the two countries. Though the partnership is only beginning officially now, the central working groups already met in the spring of 2022 and will now intensify their exchange.
These are the focal areas that form the backbone of the new transatlantic partnership:
Development of the offshore wind sector
Germany and the US have set themselves the same target: to have 30 gigawatts of installed offshore capacity in each country by 2030. The working group will focus on transatlantic know-how transfer, exchange on research and development, and the creation of strategies to avoid possible capacity bottlenecks. A US delegation will travel to Germany in June 2022, among other things to visit an offshore wind farm near Helgoland.
Blazing new trails with hydrogen
Many hopes in the fight against climate change are pinned on green hydrogen in particular. The US is the world's second-largest hydrogen producer and consumer, and operates more than half of the hydrogen pipelines installed worldwide. Within the framework of its National Hydrogen Strategy, Germany is funding the requisite technologies and the establishment of a national and international hydrogen economy. The working group will also engage in an exchange on regulation and certification of hydrogen, the plan being to hold a joint workshop to this end in June.
Zero-emission transport
Germany and the US are keen to considerably increase the market share of zero-emission vehicles. A closer partnership between the two countries is intended to support this, taking market trends and the contribution to climate protection into account.
Cooperation with other partner countries
Germany and the US are also looking at other partner countries and intend together to promote ambitious climate policy and energy security in third states. Developing countries and emerging economies are to be particularly supported in their efforts to bring about an energy transition.