100 climate high flyers by 2030
NetZeroCities wants to help 100 EU cities become climate neutral. How can such an ambitious project be realised?
The European Union wants to become climate neutral by 2050. 75 per cent of EU citizens live in cities and are therefore chiefly responsible for the EU's carbon emissions – for cities produce particularly large amounts of greenhouse gases. This is where the EU's NetZeroCities mission comes in; its aim is to help the 100 selected cities to already achieve climate neutrality by 2030. NetZeroCities is part of the Horizon 2020 research and innovation programme, and supports the implementation of the European Green Deal. Its priority is to bring about a structural transformation in the pilot cities, thereby removing barriers for those cities that will subsequently follow suit.
How does NetZeroCities work?
The project consists of 33 partners, including city networks, research organisations and urban stakeholders. Together, they are for example setting up a digital support platform for the participating cities. "This will help the European Commission to approach the towns and cities and support them in fulfilling the mission," says Roman Mendle from ICLEI, a city network based in Brussels. As structures and circumstances differ from one city to another, an individual concept has to be created for each.
First, however, Climate City Contracts are concluded – a kind of public-sector contract between the EU and the cities with their stakeholders. "This includes an action plan with projects and implementation measures on which in turn investments are based," explains Mendle. This will be followed by investment plans and lists of projects that are to be put into practice by 2030. It is mainly the Brussels-based organisation Eurocities that draws up the Climate City Contracts with the cities. Once again, it is important to remember that every city is different. "That's why a different contract is needed in each case," says Project Manager Brooke Flanagan.
What will be done to achieve the goal?
Above all, it is a question of learning from one another. The platform helps towns and cities to form networks, the process of city twinning being coordinated by the Climate Alliance. This involves bringing cities together so that they can learn jointly and implement similar measures on the path towards climate neutrality. "The idea behind it is that cities learn best from other cities with similar conditions and challenges," explains Marie Kleeschulte from the Climate Alliance. They exchange ideas and experiences relating to specific topics in online group rooms. "Hearing what the cities would do differently next time round is valuable information for others," agrees Flanagan.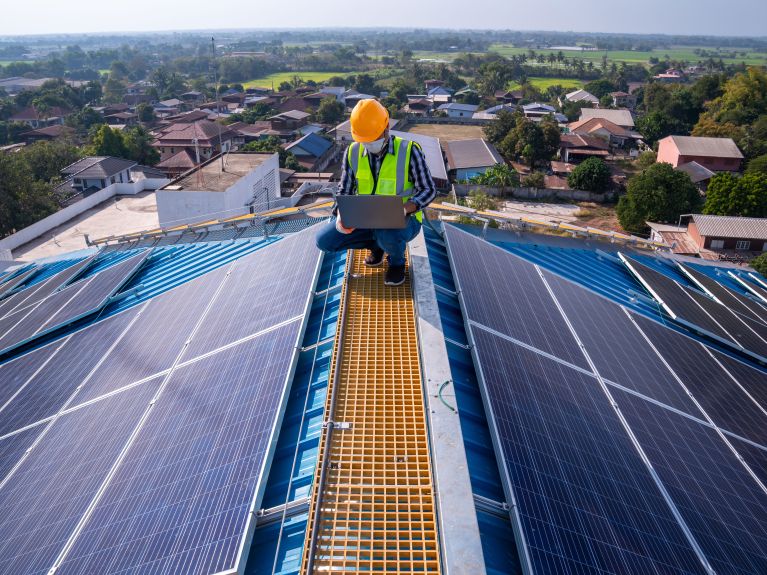 Then there are the salaried City Advisors who provide personal support for several cities and thus have a better overview of their needs. Not all of the 112 participating cities are at the same stage of their journey towards climate neutrality. Mannheim for example had already set its target before the mission even existed. A climate action plan is also already in place there. "That of course makes it easier because many administrative processes have been set in motion and decision-makers are involved," Mendle explains. This networking is necessary to get all cities to reach their goals: "The City Advisors are like the glue between the cities and the platform and all of the expertise contained therein," says Flanagan.
What are the challenges?
The EU mission is making available a budget of 53 million euros. Furthermore, the project is also being supported by the private sector. Flanagan explains what needs to be ascertained: What resources are already available to the cities, which others are still required, and what stipulations are there? From next year, a number of pilot projects will be run within the framework of NetZeroCities, though generally speaking it is a question of seeing the bigger picture: "We do not want to go from one small project to the next. What we really need is a systematic transformation within the cities."
The target of reaching climate neutrality by 2030 is ambitious. "I don't think there is any city that won't find this difficult," says Roman Mendle, adding that it will be easier for a university town with lots of cyclists than an industrial city. Nonetheless, the experience gained in the Cities Race to Zero in the US has shown that state support makes many developments possible and that research has made a "giant leap" forwards. NetZeroCities will thus ensure swifter action in the fight against climate change.