Earth can only be saved as a team
Learning to act like a climate hero and using data streams for heating: innovative concepts for climate protection.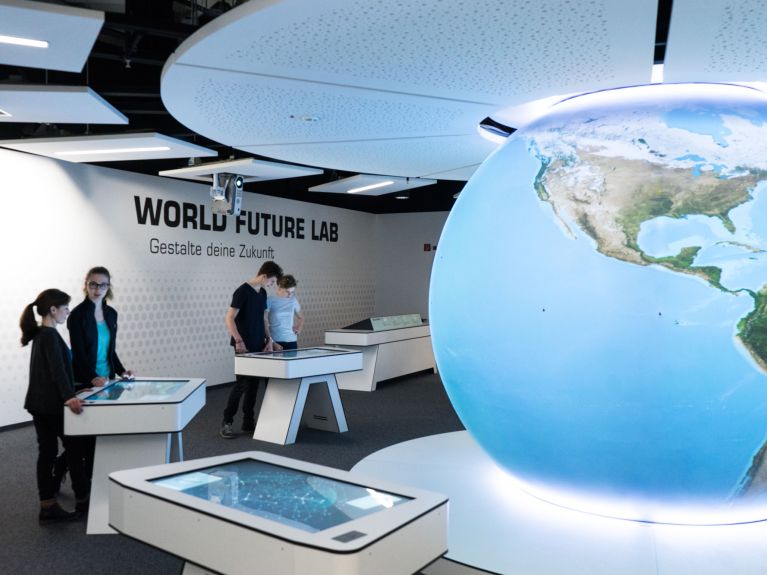 The Landmarks in the Land of Ideas competition is organised every year by the Germany – Land of Ideas initiative to honour projects that deliver innovative answers to questions that affect society. For example, ideas for climate protection:
World Future Lab: interactive game
What does it take to be a climate hero? Lots of team spirit! Anyone who's been to the World Future Lab at the Klimahaus Bremerhaven takes this message home with them. The walk-in, interactive game invites visitors to save the climate – and make decisions that become visible in real-time on a huge globe. In the course of the game, each individual influences world events in this way, and it quickly becomes clear that the Earth can only be saved as a team. At a total of eight play stations, children and adults get to know their strengths together and experience how others protect the environment. A project that shows how each and every one of us can make climate-relevant, responsible and sustainable decisions.
Cloud&Heat:  Heating with bits and bytes
As digitalisation progresses, so does the flood of data. The Internet of Things, or 'Big Data' requires ever more performance and storage space. And so, large data centres are becoming indispensable around the world – but they are massive energy guzzlers. Cloud&Heat shows how waste heat from a data centre in the former European Central Bank building in Frankfurt can be used for heating. The start-up's patented hot-water direct-cooling system saves 160,000 euros in total costs and 560 tons of carbon dioxide – per year. An idea that intelligently combines digitalisation, economy, and sustainability.