With an eye for sustainability
"Future farmer" Sebastian Heilmann talks about new paths in agriculture and what makes a good rural life for him.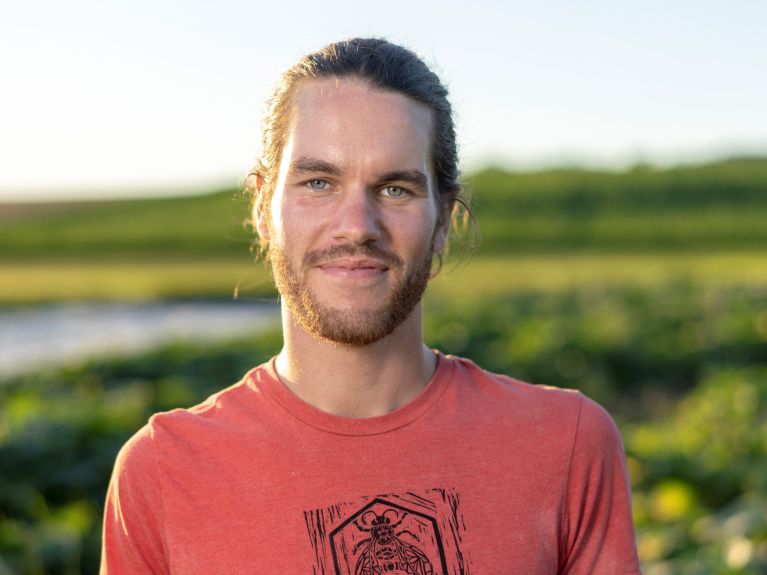 Sebastian Heilmann has been working in agriculture since 2011 and is engaged in many different fields of education. He is head of a regenerative research farm that he has set up for the Schloss Tempelhof Community in Baden-Württemberg.
Mr Heilmann, what does country life mean for you?
In 2014, my partner and I joined the Schloss Tempelhof Community in northern Baden-Württemberg. That was very appealing from an agricultural point of view, but also with a view to community life: with currently around 100 adults and 50 children from a wide range of societies and beliefs, we try to make as many grass-roots decisions as possible. There is a large kitchen on the premises, a school, a seminar house, workshops, commercial space, a multi-purpose hall, residential buildings and agriculture.
What is special about your kind of agriculture?
In Germany there are no longer many small-scale farms that make possible local food production and cultivate the land, grow a variety of vegetables and at the same time keep livestock. Smallholder structures and the availability of local food are precisely the requirements that the World Agricultural Report of 2008 set for sustainable agriculture. At Schloss Tempelhof and in the Future Farmers initiative that I founded, we rely on regenerative agriculture, which gives nature a chance to relax. For example with the "market garden" principle, according to which the use of heavy machinery is avoided in small areas. This reduces soil compaction to a minimum and so reduces the risk of erosion. Another example is agroforestry systems in which perennial crops are integrated into arable farming, vegetable growing or animal husbandry. This also protects the soil: fruit-bearing trees, for instance, have their roots in completely different water and nutrient depots than cereals.
How effective can you be with your ideas?
The Schloss Tempelhof Community finances itself, producing food roughly half for ourselves and half for retail: this shows that it works. Of course you have to make distinctions: while market gardening is more interesting for small areas – for example, for urban gardeners – we see opportunities for large-scale agriculture in agroforestry systems. To spread our ideas, we're deliberately promoting research and education in several projects.
You would like to receive regular information about Germany? Subscribe here: