"It is now our responsibility"
A schools competition aimed to shed light on the darkest chapter of German history. These moving projects are the result.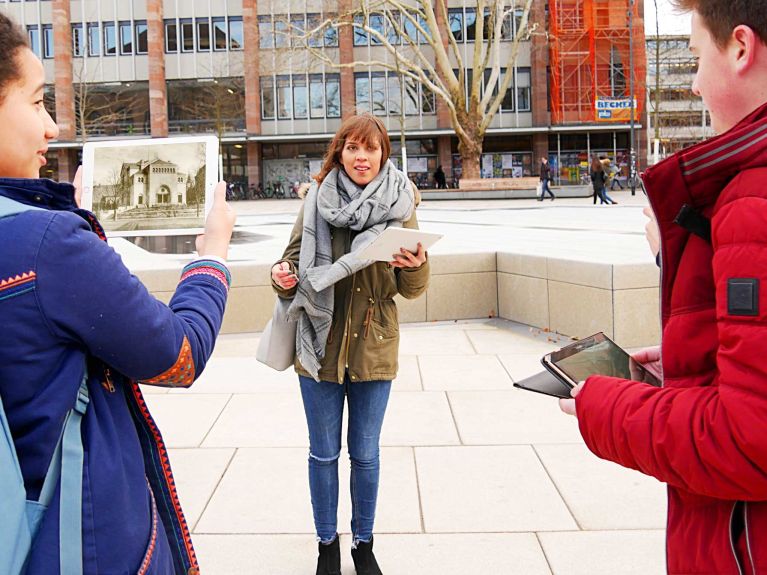 The film ends with a horrific image: emaciated corpses piled up on top of one another. The New Synagogue in Mainz falls silent. School student Simon Leoff's voice can be heard from offstage: "The Nazis had murdered more than five million Jews by 1945. Together, we can prevent such an event from ever happening again."
The film was one of 26 entries to the schools competition "Erinnerung sichtbar machen" (i.e. Making memory visible). To mark the 80th anniversary of Kristallnacht, the association "Zentrale Unterrichtsmedien im Internet" and the Konrad-Adenauer-Stiftung Mainz had called upon young people to explore the November pogroms and their consequences.
Becoming immune to the temptations of the right wing
On 9 November 1938, the National Socialists drove Jews through the streets, abusing them and trashing their businesses and homes. "If young people engage intensively with these horrific events, they will hopefully become immune to the temptations of the right wing", explains Johannes Gerster, former president of the German-Israeli Association and the project's patron.
Pupils from schools in eight of Germany's federal states took part in the competition – as did the International Youth Meeting Centre in Auschwitz and a school in Mexico.
Provocation encouraged
First prize went to the film group at Willigis Grammar School in Mainz. For their short film about Kristallnacht in Mainz, the four students gathered together historical photographs and interviewed surviving witnesses. "The pupils used some very hardcore images for their film. But young people are allowed to provoke – indeed they should and must provoke", says Gerster.
Moving discussions with surviving witnesses
"I was very moved by our discussions with those who actually witnessed the events", says Simon Leoff, who was responsible for the film's screenplay, editing and soundtrack. "I hope that our film will allow their stories to live on. It is now our responsibility to fight against hatred in society", the 17-year-old explains.
Moritz Schneider from Lise Meitner Comprehensive School in Cologne agrees. Together with his classmates, he tracked down photographs of the synagogues in Cologne dating back to before 1938, and then, from the same perspective, photographed the buildings that are there today. The result was a vivid before/after comparison. "The destruction that happened that night still makes me feel very sad", says the 13-year-old.