"Aerospace for climate protection"
The politician Anna Christmann explains how outer space plays a decisive role in questions concerning the future.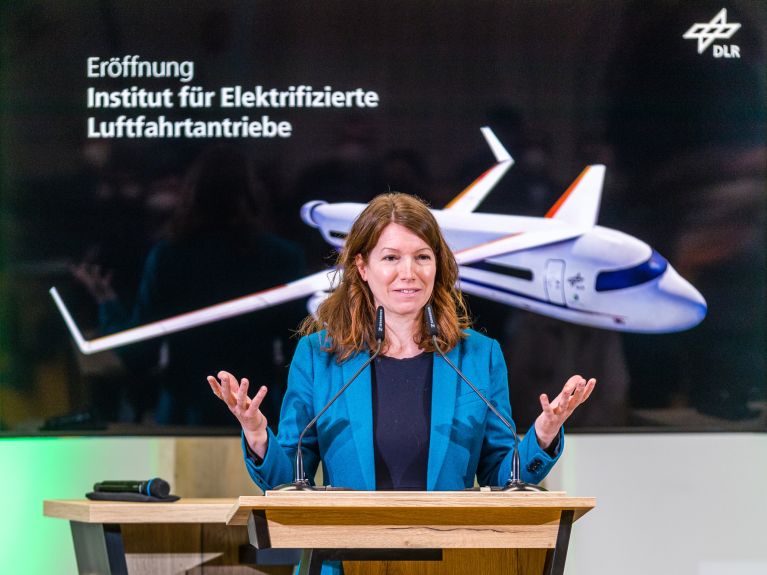 Member of the Bundestag Anna Christmann is the Federal Government Coordinator of German Aerospace Policy. She is also the Federal Government Coordinator of the Digital Economy and Start-ups.
Ms Christmann, how important is aerospace for industry and research in Germany?
Aerospace is a key field for the future in Germany. The insights gained from aerospace are crucial for climate protection, mobility, digitalization and security – to name just a few central fields. New Space, that is private enterprise initiatives in the aerospace industry, is experiencing dynamic worldwide growth in this sector and there have already been numerous leaps in the development of satellites and rockets. To enable start-ups to participate more strongly in this market, we need to give them better start-up incentives in Germany and Europe.
Which projects are particularly future-oriented for Germany?
I think the aerospace contributions towards climate protection are of central importance. The EnMAP climate satellite mission, which was launched a few weeks ago, puts Germany up among the leaders in this area. EnMAP is designed to monitor the earth's entire surface on a global scale, providing information about the condition and development of ecosystems. The satellites in the EU's Copernicus Programme run by the European Space Agency ESA are providing valuable services in this respect as well, and many of these satellites are being built in Germany. At the moment the CO2M-Mission is being developed to measure atmospheric carbon dioxide produced by human activity. And there is the planned GRACE-I Mission with which climate scientists are aiming to determine the earth's natural groundwater reserves through measurements from outer space.
Which aerospace developments do you think are the most exciting?
The new era in moon exploration is very exciting with numerous new international missions in the pipeline. The USA are planning a return to the moon, and they are aiming to send the first woman to the moon. Germany is supplying central systems for this. So we are creating the opportunity for European astronauts to take part in these ventures. This is how we are helping to pave the way for the next 20 years.
Is there a future for international co-operation or is there a threat of nationalization?
Germany is pushing for free and reliable access to outer space, and for the peaceful and sustainable utilization of outer space by everyone. I'm convinced that space travel can only succeed on an international basis of co-operation. The ESA is a good illustration of this for Europe, plus the many projects together with NASA. And all this is symbolized in very concrete terms by the international co-operation on ISS. What happens in outer space affects and concerns us all, just as climate change is affecting us all. Nationalization would definitely be the wrong road to take.
You would like to receive regular information about Germany? Subscribe here: