Equality in space
Eleven German men have already travelled in space. The Female Astronaut initiative aims to send the first German woman into space – in 2021.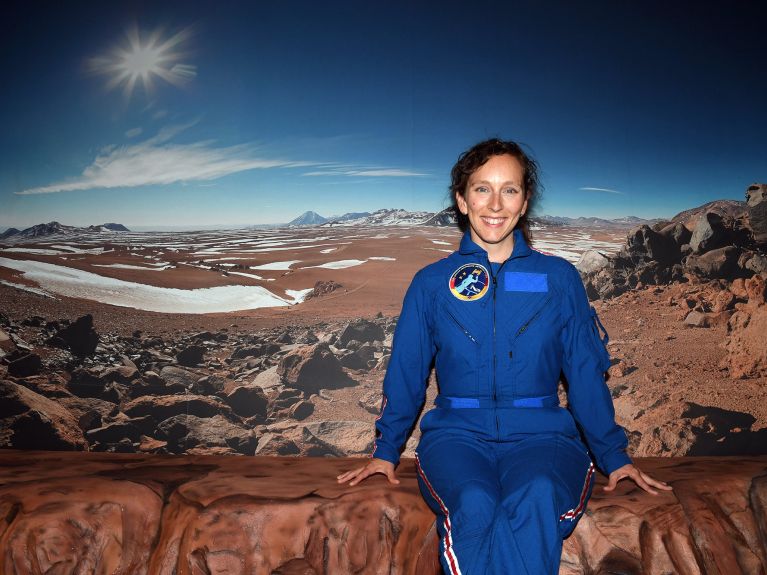 "Astronauts are the pop stars of the natural sciences and technology," says astrophysicist Suzanna Randall, "every child knows them." She thinks this is a good reason why astronauts should include women. At 40 years of age, she too could well become one of these pop stars as Germany's first female astronaut. In a complex selection procedure, Randall and the meteorologist Insa Thiele-Eich were chosen by the private The Female Astronaut initiative to prepare for a space flight.
50 million euros for the flight to the ISS
Aerospace engineer Claudia Kessler founded the initiative in 2016. She thought it was high time for the first German woman to enter space. The training, the flight with a private operator to the ISS space station, and the ten-day stay there costs a good 50 million euros. If the initiative manages to mobilize the funds, one of the two women could fly to ISS in mid-2021. Randall says that she is involved in talks with investors and companies at the moment. The initiative is already being supported by Airbus and the German Aerospace Center (DLR).
Female astronauts as role models for technical professions
Even as a young girl, Randall wanted to fly in space. Her role model was Sally Ride, the first American woman in space. "I discovered her when I was seven or eight years old," she says, "and I thought, if she can do it, so can I." Randall reckons young women need role models like this just as much today as a source of inspiration for technical professions. "It's important for Germany that we have plenty of well-trained experts in future technologies," she says, "not just men, but women as well."
Randall studied astronomy and gained her doctorate in astrophysics. She works and does research at the European Southern Observatory (ESO) in Munich. But over the past few months she has been training intensely for her space flight. She has gained her pilot's license and a diving certificate, completed weightlessness training, and trained for her research on the ISS. Insa Thiele-Eich is also perfectly well-prepared. But only one of them will be flying to the ISS. The decision will be taken shortly before the start of the mission. But one thing is certain: no matter which woman goes into orbit, she will be the first German female astronaut.