All-rounders for outer space
How are astronauts trained for space travel? Former ESA instructor Laura Winterling talks about it.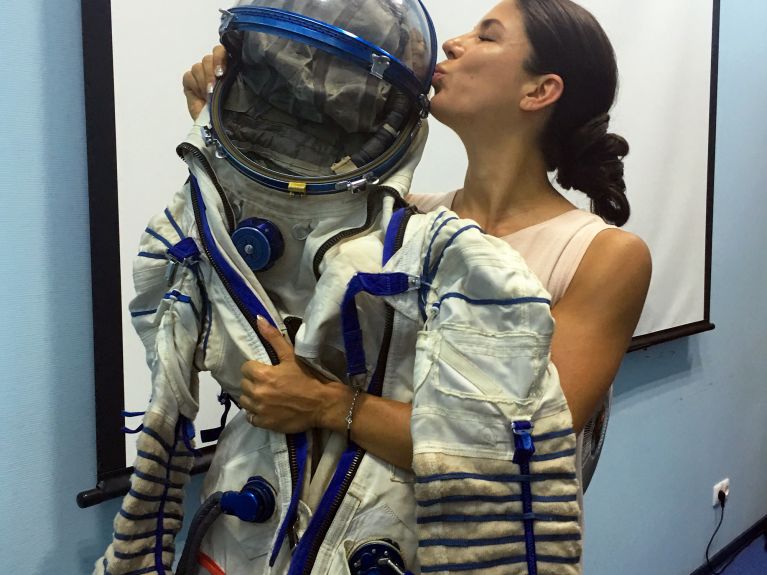 Laura Winterling's dream is to visit the International Space Station ISS. For ten years she was an astronaut instructor at the European Space Agency ESA. She is now self-employed and conveys her expertise in lectures and guided tours at the European Astronaut Centre EAC in Cologne.
Ms Winterling, what did your work as astronaut trainer involve?
We train astronauts in the way life works on board the ISS space station. That's why the ESA has accurately reproduced all of the ISS rooms at the Astronaut Centre in Cologne. This enables the astronauts to practice in the various rooms with their trainers, for instance what they need to do if the air supply suddenly stops functioning, or how the ventilation shafts operate.
What is the difference between an astronaut instructor and an astronaut?
The instructor is of course specialized in his or her field and is very well-informed about the technology, and that's it. But that's not what the life of an astronaut is about. We're not looking for specialists, but all-rounders. Astronaut trainers are admittedly very good in their specific areas, but their education isn't broad enough. An astronaut on board the space station must be able to do everything: make coffee, do the washing, set up experiments, carry out extra-vehicular activities, conduct interviews – simply everything.
How do people become astronauts?
It's the same as with every other selection process. You apply, and then you go through an assessment centre, as in other application procedures. The selection is based on previous education and discipline, knowledge and a good pinch of luck. Many astronauts are already recognized scientists, or they have worked with the Bundeswehr, for instance as a pilot. It's also important to have a team spirit. After all, the astronauts have to live together for a relatively long time in a confined space.
During his time on board the ISS the German astronaut Alexander Gerst was very active with social media. Have social media changed space travel?
Astronauts see everything that is happening on our planet through their windows. That includes the beauties of our Earth, but also the Amazon rain forest fires or a hurricane making landfall on the American coast. It's an amazing new perspective for humans. I think it's great that the astronauts can share their impressions with the people on earth via social media and in real time, providing them with an entirely new view of their planet.
What is the ESA's biggest aerospace project that we can look forward to in the future?
Europe is part of the planned 2024 moon mission. That's when we'll see Europeans landing on the Moon. All those who were unable to experience the first landing on the Moon in 1969 will have something really exciting to look forward to.