"Lots and lots of ­interview requests turned up – and then the idea for the podcast"
The pandemic has made the virologist Christian Drosten a media star.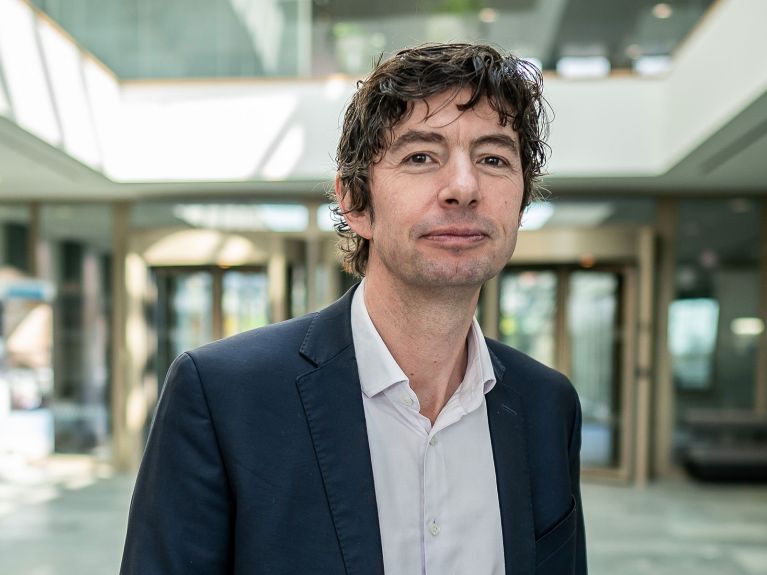 Virologist Christian Drosten is the media star of the corona pandemic in Germany. His podcast explains the latest coronavirus developments so clearly that it even enables complete non-experts to understand finer points of vir­ology. The media used to only report on scientists after they received a prize, but in Drosten's case you can practically look over his shoulder while he works. This has made him the most popular guide through the crisis.
Drosten never wanted this strong media presence. However, he has always enjoyed sharing his knowledge. As early as 2003 he was one of the co-discoverers of the SARS-CoV-1 coronavirus. A few days after its identification, he succeeded in developing a diagnostic test. He made his findings available on the Internet before his article appeared in a scientific journal. At the end of 2019, researchers working under his leadership at the Charité – Universitätsmedizin Berlin began developing a test for the SARS-CoV-2 coronavirus and then made it freely available worldwide in mid-January 2020.
Drosten was born and grew up on his parents' farm in Emsland, in the northwestern corner of Germany, where he developed an interest in science at an early age. After leaving secondary school, he studied chemical technology, biology and medicine in Münster, Dortmund and Frankfurt am Main. In his doctoral thesis he examined ways of effectively testing for HIV and hepatitis in large quantities of donated blood. After working in the Department of Virology at the prestigious Bernhard Nocht Institute for Tropical Medicine in Hamburg and the Institute of Virology at the University Hospital Bonn (UKB), he accepted a job offer in Berlin and became Director of the Institute of Virology at the world-famous Charité.
You would like to receive regular information about Germany? Subscribe here: