Revolution in production
Germany is to help Africa set up its own vaccine production facilities.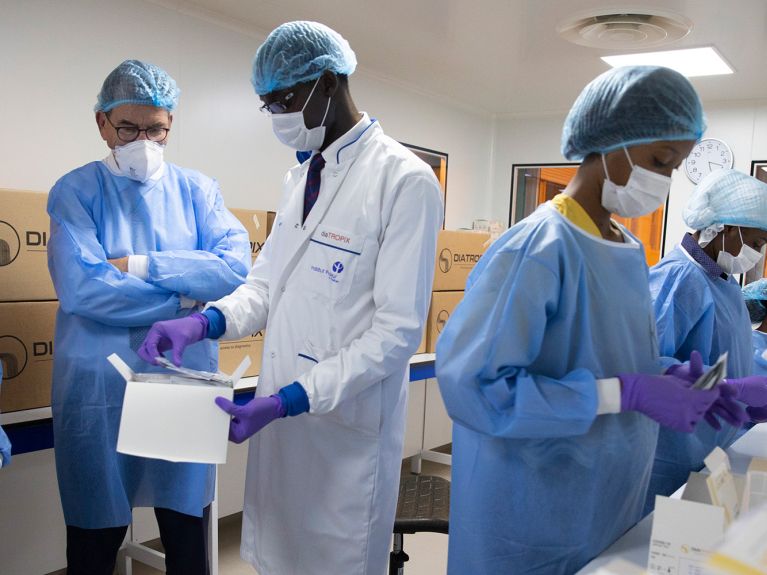 As Federal Development Minister Gerd Müller explained in June 2021, the project will "jump-start the battle against the pandemic in Africa" and will constitute a "vaccination offensive". A new chapter of collaboration is to begin: with German support, Africa is to set up its own vaccine production facilities. 
Coronavirus has wreaked considerable damage in African countries, too. Which makes it all the more alarming for experts that most people there are still unprotected – increasing the chances that the virus will develop a new and possibly dangerous mutation. This would have far-reaching consequences for the continent, and for the global spread of the pandemic. Currently less than four percent of the African population have been fully vaccinated. And Ann Fortin from the regional office of the World Health Organization (WHO) in Africa believes that only 17 percent at most will have received both jabs by the end of the year – the original target was 40 percent. Of the 620 million vaccine doses promised by the Covax initiative of the WHO, which is attempting to ensure the fairer distribution of the vaccine, the continent will be receiving a quarter less.
Home-grown supply of vaccines
To date, Africa has been almost completely reliant on vaccines from North America, Europe and Asia. Just one percent of the vaccines administered in Africa are also produced there.
This is precisely what the "vaccination offensive" that Germany is supporting intends to change. Several African countries plan to drive forward the production of vaccines against coronavirus, as well as other diseases such as tuberculosis, cholera and yellow fever. In June 2021, for example, Germany provided the Institut Pasteur de Dakar (IPD) in Senegal in West Africa, which has been involved in producing vaccines for years, with 20 million euros in initial funding. The first phase, from April 2022, will see shots bottled there. In a parallel step, a facility capable of manufacturing up to 300 million Covid vaccine doses a year is to be established, with funders including the European Investment Bank – from 2022 the shots would be produced under licence.
German-Senegalese cooperation
Germany had already been cooperating loosely with the IPD beforehand: since 2020, the Federal Government has been supporting the development and production of Covid-19 rapid tests that the institute intends to place on the market together with the Senegalese company Diatropix and UK biotech firm Mologic, among others. Quick, simple and comparatively inexpensive tests make a major difference in Africa. Furthermore, there had previously been collaboration on the production of a vaccine against yellow fever. In future, the IPD is also to train lab staff to carry out swift diagnosis of coronavirus.
John Nkengasong, director of the Africa Centre for Disease Control and Prevention, sees great potential in creating African production capacities. He is convinced that the African vaccine market could grow from 1.3 billion dollars at present to 2.4 billion dollars by 2030. The African Union is similarly optimistic: it believes that up to 60 percent of the vaccines needed in Africa could be produced on the continent itself in 20 years.
The German vaccine manufacturer Biontech is also planning its own production plant in Africa. As the company announced in August 2021, the possibility of setting up sustainable production facilities in Rwanda and Senegal is being explored. "Our goal is to develop vaccines in Africa and to build sustainable production capacities for vaccines with a view to jointly improving the standards of medical care", said CEO Uğur Şahin. Biontech's technology  could also be used for applications beyond Covid-19, explained Şahin, adding that Biontech is already researching vaccines against tuberculosis, malaria and HIV. "There is no guarantee that these projects will be successful", he admitted. "But we must be ready if they are." Work on building the first production facilities is to begin during the course of 2022.