Study digital media
German universities offer these courses relating to digital media.
Nicole Sagener / 02.05.2019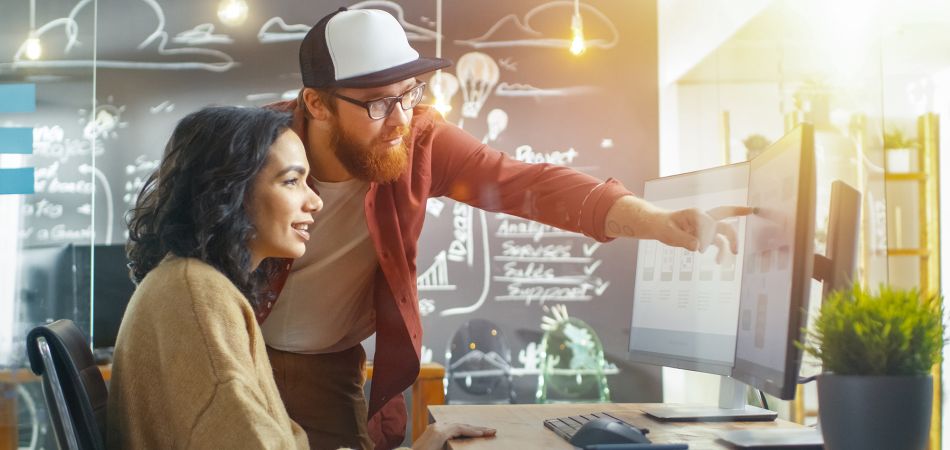 A study programme in digital media gives students the necessary know-how to pursue high-level jobs in the media industry and combines IT, design, technological and business disciplines. There is a great selection of courses, and they in part vary greatly in terms of focus. Below we present some of the most important courses at German universities.
Foreign students interested in studying in Germany but who do not possess the requisite knowledge of German can consult the DAAD International Programmes in Germany database for English-language Bachelor's courses and international Master's programmes. The Studieren in Deutschland Web portal provides a wealth of information in German and English as well as outlining the conditions for applications.
Interactive media design
Almost everyone today uses interactive media. The corresponding tools and skills for planning and developing websites, social media, media systems for vehicles, and much more besides can be learned, for example, on the Bachelor's course in Interactive Media Design offered by Darmstadt University of Applied Sciences. The course equips students with everything they will later need in media production or consultancy. Potential employers are agencies, software companies, cultural institutions or the games industry.
Audiovisual media and online publishing
Be it in the form of video clips, films or animations, moving images have long since defined our everyday lives. Anyone wanting to design and successfully disseminate audiovisual media today will not be able to get around using platforms such as YouTube, Instagram and the like. You can acquire the qualifications to design and market filmic projects on the Audiovisual Media & Online Publishing course at Fresenius University of Applied Sciences. The curriculum covers the moving image and narration, project management, media law, marketing and social media.
Media computer studies
Whether smartphones, tablet PCs, laptops or computers – without computer studies the digitised world would come to a standstill. Those who are greatly interested not just in numbers and algorithms, but also in the digital media should check out courses in media computer studies. The programme combines classic themes in computer studies with designing digital media. Developing applications and programming likewise play a role, as do media technology and media management as well as the conceptualisation of interactive media offerings.
You can study media computer science, among other places, at the Mittweida University of Applied Sciences and the University for Applied Sciences Berlin (HTW), which both offer courses with an international thrust. The curriculum includes a traineeship abroad lasting at least 19 weeks, and classes are in part taught in English. Media computer scientists have great job prospects, for example in the entertainment, games, journalism, telecoms and Internet sectors.
Digital film design – Animation/VFX
Visual effects, whether in the context of feature films, games, marketing or Virtual Reality, are an integral part of many different fields today. How these animations function and where they can be used is something taught on the course Digital Film Design – Animation/VFX at the University of Media Design MD.H. The curriculum imparts the skills needed to realise 2D or 3D animations or visual effects for films and applications in the games, VR or ad industries.
The course covers illustration, photography and digital image processing, animation, film design, and also project management and company management. Teaching is partly in English. You can also take your final exams in English and the university supports students in finding a traineeship abroad.
Media technology
If you want to work in the media but are more interested in the technological basics, then a course in media technology is the right one for you. The curriculum has a strong engineering thrust and prepares you to develop media systems yourself. The content includes audio and video technology, computer sciences, business, radio and TV technology and media production. It also covers printing and digital technology as well as 3D graphics and animation.
Such courses are offered, for example, by the Anhalt University of Applied Sciences and the Hamburg University of Applied Sciences (HAW). The Beuth University of Applied Sciences Berlin offers a course with an emphasis on printing technology.
3D media design and management
A course in 3D media design and management gives you the skills required to create 3D designs. Curricula include 3D motion design, storyboarding and dramatic plot, design theory, as well as business administration, project management and business law. In this way, courses prepare you fully for a job in the media industry and business – be it in PR, in agencies, or in corporate consultancy. The 3D producers, 3D artists and industrial designers of tomorrow will have trained, among other places, at the Fresenius University of Applied Sciences in Idstein.
+++
Everything you need to know about learning German online or studying for a degree in Germany online:
https://www.deutschland.de/en/online-learning-in-germany
You would like to receive regular information about Germany? Subscribe here: