Starting a career: training in the EU
Vocational training in an EU country has many advantages. Ralf Hermann from BIBB and some YouTubers tell you about this path.
Germany and the EU are attractive labour markets for people from all over the world. Dr Ralf Hermann is head of the German Office for International Cooperation in Vocational Education and Training (GOVET) and tells you what is important. Training in the EU. In the video, Karlos, Elissa and Rodrigo, together with some friends, provide insight into how this very special road to a career can help you, and what surprises life in Germany sometimes has in store.
Mr. Hermann, why is studying in Germany so attractive for people from all over the world?
Products of German companies have a good reputation worldwide; they stand for innovation and high quality. More than 430,000 companies in Germany provide dual vocational training. That attracts young people. In addition to theoretical specialist knowledge, they also want to learn the practical side. In dual vocational education and training, trainees learn the theory at vocational school and, in contrast to vocational training in most other countries, the practical side directly in the companies. Together with the training allowance and the high percentage of people who are taken on permanently, this makes for a very attractive overall package.
What vocational training opportunities are there in the EU?
Gaining experience abroad and international skills are not only an important topic for students. It's also very attractive for trainees to spend some time in another country, learn the language there and make new contacts. Trainees receive support for stays abroad within the EU, for example through the Erasmus+ programme. The new BMBF programme 'Vocational Training Worldwide' has created another attractive opportunity for young people in Germany. Due to freedom of movement within the EU, training can also be carried out completely in another member state.
Karlos from Spain tells you in the video about his experience of training as a media designer in Germany and how it changed his life.
What qualifications should applicants from abroad have when they apply for vocational training in Germany?
The formal requirements depend on the respective training. There are no fixed conditions for dual training, as the companies select their trainees themselves. There is a lot of competition in popular professions, so a school-leaving certificate, good grades and German language skills are advantageous. Popular professions are animal keeper, visual marketing designer, image and sound media designer and sound media designer or sports and fitness management assistant in sports and fitness. Applicants have the best chances in professions where there are more training places than applicants. These include, for example, specialist salespersons in the food trade, butchers, plumbers or professions in the catering trade.
What possibilities are there for people interested from outside the EU?
Young people from non-EU countries are basically free to pursue an education in Germany as long as they meet the requirements. At the moment, the chances are good, as many training places remain vacant. Interested people must first find out for themselves what kind of profession is realistic; they can then either search for vocational training opportunities on the internet exchange sites or contact the companies directly. A good step-by-step guide with useful links can be found on the multilingual specialist portal Make-it-in-Germany.
Elissa and Rodrigo from Brazil enjoy getting to know new cultures. They asked some Brazilian friends to tell you something about starting work in Germany and to give you a real insight into life in the EU.
What are the visa requirements and who can support interested people?
The new law on the immigration of skilled workers, which will come into force on 1 March 2020, will broaden the possibilities. Then it will be possible for young people from non-EU countries to obtain a six-month residence permit specifically to look for a vocational training opportunity. They can then get to know companies in Germany and get a clearer picture. Requirements include a maximum age of 25, B2-level German language skills and a school-leaving certificate entitling the holder to study in their home country. Interested parties can obtain information from the German diplomatic missions in their countries or make use of various information and advisory services such as the Working and Living in Germany Hotline or the Make-it-in-Germany internet portal.
What are the benefits for young people of completing a vocational training programme in an EU country?
The EU is a huge labour market. Completing a training programme in an EU country and thus being able to live and work in currently 28 member states is a unique model worldwide and one that offers many development opportunities
What is the benefit of training in another country in addition to professional knowledge? Does this also convey the 'European idea' to the trainees?
In addition to language skills, young people can, for example, develop their intercultural competence. They learn to deal with other cultures. While learning to take a broader view, they learn a lot about themselves, their own origins and see many things in a new light that concern them. They will face new, potentially challenging situations in which they are left to their own devices. They become more independent and develop their personality. For many young people, the 'European idea' and Europe are automatically linked to the EU Erasmus programme. The programme enables many people to experience multilingualism, working, travelling and living abroad and thus also to experience Europe.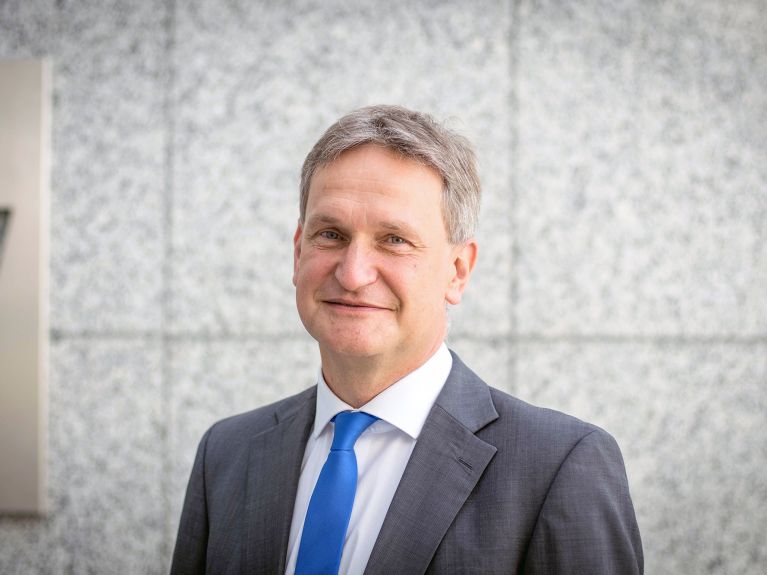 You would like to receive regular information about Germany? Subscribe here: