Jobs in demand in Germany
German companies are crying out for qualified staff. International applicants have good chances in these professions. Read on for the best tips and links.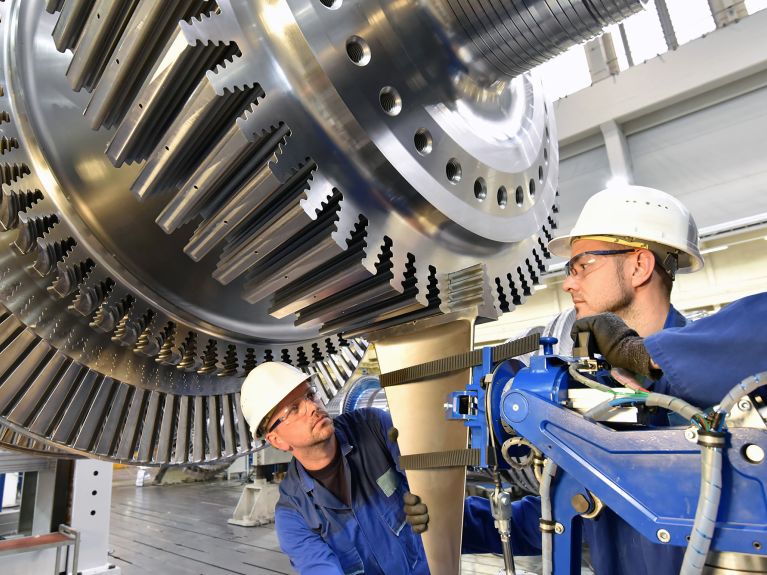 The German labour market needs well-trained women and men. Foreign professionals have good prospects in jobs that are particularly in demand.
According to a study commissioned by the Bertelsmann Stiftung and published in February 2019, Germany is reliant on immigration from countries outside Europe. By 2060 Germany will have an annual immigration requirement of at least 260,000 people, it says. On a yearly average some 114,000 immigrants can be expected to arrive from other EU member states, the study claims. That means that around 146,000 women and men would need to immigrate from countries outside the European Union.
In December 2018 the Federal government resolved the Skilled Migrants Immigration Law, which is destined to make it easier for non-EU citizens with professional qualifications to access the German labour market. The law must still be passed by the Bundestag. The plan is for it to enter into force in early 2020.
Which jobs are needed in Germany?
 
Software developers, architects, programmers
Electronics engineers, electricians, electrical fitters
Nurses
IT consultants, IT analysts
Economists, business management experts
Customer advisors, account managers
Production assistants
Sales representatives/assistants
Sales managers, product managers
Architects, civil engineers
 
Source: Dekra Arbeitsmarkt Report 2018
Click here for more information on jobs in demand in Germany in 2019
Are there jobs for foreigners in Germany?
Skilled job-seekers from abroad have very good opportunities in certain professions. For instance, there are many jobs for engineers, doctors, nurses, as well as in the manual trades.
Overview: Jobs for international qualified professionals and tips for foreign applicants
How difficult is finding a job and everyday life for foreigners? Here an engineer from the Ukraine outlines his experiences as a skilled migrant in Germany.
What are the best-paid jobs in Germany?
Scientists, doctors and engineers are among the best-paid vocational groups. In Germany, however, salaries differ not only by profession – there are also regional differences:
List: Jobs and salary in Germany
Which are the best employers in Germany?
Two new rankings list which companies are popular and which employers have a particularly good reputation in Germany. One German company in particular shone here. Click here for the top ten best German employers.
How can you find a job in Germany?
To find work in Germany you can approach the job centre or use the job portals and key business networks. Alongside the established job forums, innovative apps offer a surprising way of accessing the labour market.
 
How to apply for a job in Germany?
We have plenty of tips on applying for jobs, for example which documents and certificates you should have ready and how to structure a CV for German companies. And we also know which mistakes you should definitely avoid when applying for a job.
When you have an interview lined up, you should know what impresses German HR managers. We have compiled a list of what to expect in an interview – with the top tips from preparing yourself to the dress code.
 
It also can't hurt to know the five most important rules of business etiquette in Germany. And we let you in on the ultimate workplace terms and rituals.
Where to find information on professional training in Germany?
There are also plenty of opportunities for people who are not yet skilled professionals but who wish to complete vocational or further training in Germany. Information on the dual study programme and tips for finding a training placement are available here:
Finding a traineeship in Germany
How high is income tax in Germany?
You may have heard that the German tax system is a science in itself. Here we explain the key facts relating to income tax in Germany.
Where to find information on visas and work permits in Germany?
The multilingual portal make-it-in-germany.com bundles information on work permits and visas, job seeking, qualifications, knowledge of the German language, language courses, the world of work and formalities in everyday life, especially for foreign skilled workers.
Is my university degree or professional qualification valid in Germany?
The portal anerkennung-in-deutschland.de provides information on the acknowledgement of professional qualifications.
Deutschland Edition: download the magazine as an e-paper for free
You would like to receive regular information about Germany? Subscribe here: