How to apply for a job in Germany
You'd like to work in Germany and you've seen an interesting job advertisement. What do you do next? Here are some tips for your application.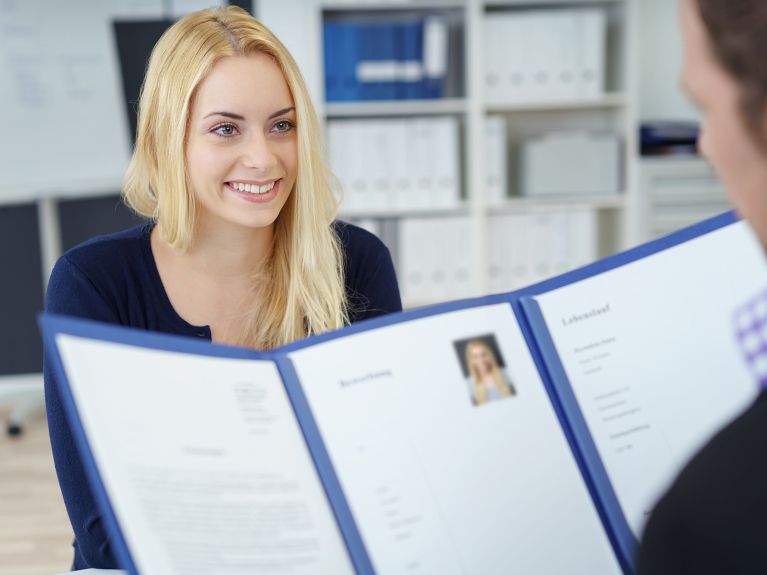 You can send your application by email as a PDF file or by post printed out in a folder. Job advertisements usually state which format the employer prefers.
Which documents belong in your application?
A complete application should include a covering letter, a CV and certificates. Testimonials or references from former employers and diplomas or records of further training programmes or courses (for example, a German course) enhance an application – but only if they are relevant and meaningful for the respective vacancy.
Your covering letter must be convincing. Show the employer why you are applying and why you are the best person for the job. Do you have specialist knowledge? Do you speak several languages? If so, this information belongs in the covering letter. Emphasise your strengths. Make the covering letter reader-friendly – with paragraphs, highlighting and short sentences.
How do you structure your CV?
The curriculum vitae (CV) presents an overview of your personal and professional development. It is usual to list this information in a clear tabular format. An application photo is not mandatory, but still widely used.
Your CV begins with your personal data, followed by your work experience – with your current position first, then earlier jobs, training or higher education, school education, further training and language and IT skills.
Tip: The Europass website explains how to put together a CV according to European standards. You will also find templates there.
What kinds of references or certificates do employers need?
If you have just completed a university degree course or a vocational training programme the company will be interested in your university diploma or the certificate from the training organisation as well as your school-leaving certificate. If you already have several years of work experience, meaningful employer references or testimonials are expected.
Send copies, not originals. Your documents will rarely be returned. They do not normally need to be officially certified, unless the company asks for that in the job advertisement.
Must I write the application in German?
You should write applications in German – unless the job advertisement was formulated in English. Definitely have your documents checked by a native speaker. A covering letter with mistakes makes a bad impression and is usually rejected.
You would like to receive regular information about Germany? Subscribe here: