Help with job hunting in Germany
This service of the Federal Employment Agency should be familiar to international applicants: how the ZAV advises and places.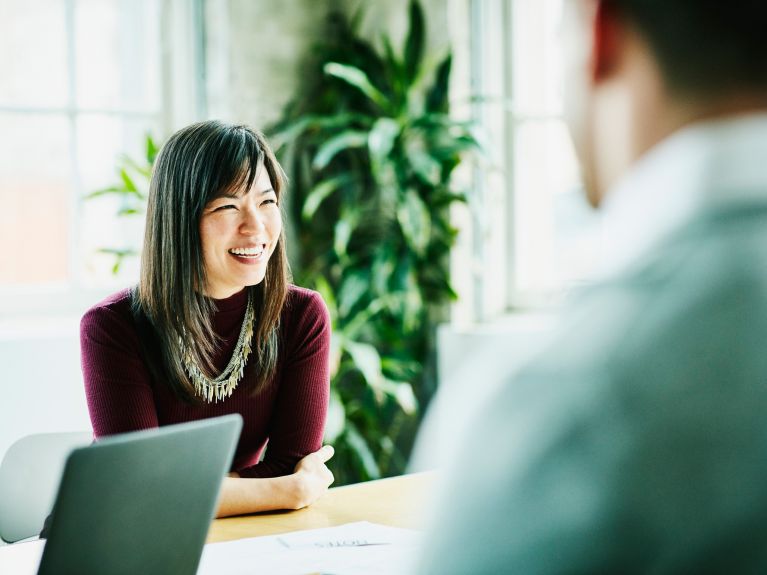 Anyone who wants to work as a specialist from abroad in Germany and make a career here has to find his way around first. One place to go is the Central Foreign and Specialized Placement Service (ZAV) of the Federal Employment Agency. It provides comprehensive information about living and working in Germany.
Above all, ZAV places suitable applicants with German companies looking for skilled workers. In 2018, just under 2,300 people got a job through this channel, especially in the areas of nursing, IT and engineering.
Individual advice and online workshops
The so-called Virtual Welcome Centre is the first point of contact for applicants from abroad; it can be reached via telephone, e-mail, text chat or Skype. Individual information on job opportunities in Germany can be obtained from the ZAV's consultants. They help with the job search, both with the application process and with bureaucratic questions about living and working in Germany. This is usually done in German or English; if needed, consultation is also available in ten other languages. Since 2018, ZAV has also offered online workshops.
Central Foreign and Specialized Placement Service (ZAV)
ZAV attaches importance to fair working conditions
While a few years ago the focus was still on recruiting skilled workers from EU countries, the ZAV is now increasingly looking to third countries as well: "In 2019, we will continue to expand our activities to specifically address specialists worldwide", says Manfred Jäger, Chairman of the ZAV Management Board. The planned law on professional immigration could, he says, facilitate the framework conditions for recruitment.
Important to the job brokers is "fair mobility", explains Beate Raabe of the ZAV. They make sure that applicants from abroad are not hired on worse terms than workers from Germany. In addition, the experts teach "cultural sensitivity" to employers and future workers. "Through intensive consultation, we throw light on the cultural differences. In this way both sides learn to avoid misunderstandings in daily work."
Job exchange for skilled workers
For professionals from abroad, the Federal Republic also operates the multilingual online portal Make it in Germany. In addition to a wealth of information, it includes a skilled job board with job offers of the Federal Employment Agency.
Make-it-in-Germany: job board for skilled workers