This is what awaits you in the job interview
Have you been invited to a job interview in Germany? With these tips on preparation and dress code you come nearer to your dream job.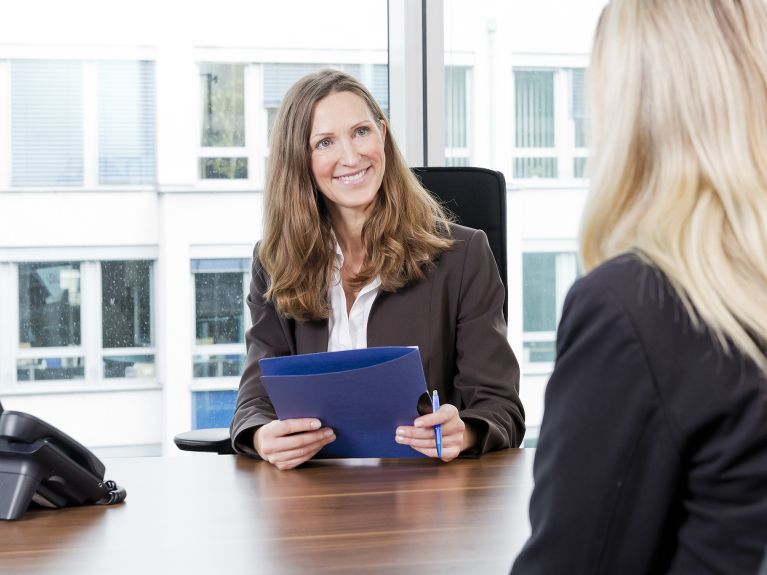 Preparation
Before the interview, find out about the company and the position you have applied for. Be prepared for questions about your CV, qualifications and motivation. You should be able to explain exactly why this company is interesting to you. If you come from another country, you may be asked why you want to work in Germany and how good your German skills are.
A good preparation is the "elevator pitch": imagine that during a lift ride you have the unique chance to impress a boss with yourself and your qualifications. Practice a short, concise presentation of no more than two minutes in length.
The interview
You should arrive punctually and well-groomed for the interview. Wear appropriate and smart attire - that means suit, shirt and tie for men and trouser suit or business suit for women. If you are applying to a young creative company, for example, you may wear something more casual. But remember that the employer wants to get an idea of how you will look to customers and business partners.
As a rule, you will be received by the manager of the department and a human resources employee. In Germany, a handshake with eye contact is customary for the greeting. Important: according to business etiquette, you should always shake hands with the highest-ranking person first.
Important and inappropriate questions
In the job interview you may be asked questions to test your reaction in unexpected situations. That is normal. On the other hand, questions about family planning and marital status, health, religious affiliation or political views are inappropriate. If they are posed, you have no obligation to answer them truthfully.
A job interview is not a one-way street. You too should ask questions that express your interest and provide you with the necessary information about the company, potential tasks, development prospects and salary.
End of the interview
Give your interviewers positive feedback. They should know that you would like to accept the job.
More tips and information about working in Germany: Make it in Germany
You would like to receive regular information about Germany? Subscribe here: