The right to opportunity
The Verfassungsschüler project helps young people find out about the Basic Law and become politically engaged.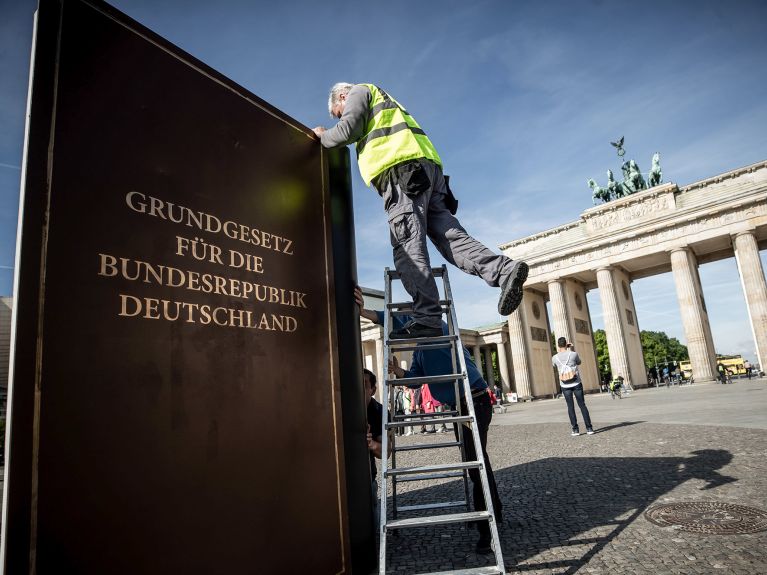 You need to look around a while to find Treff Hannibal. The youth centre is located in the inner courtyard of a housing complex that was assembled out of prefabricated concrete units in the early 1970s. The premises are on the ground floor and don't have many windows, but plenty of bright artificial light. New laminate flooring is lying on the ground, and the components of a kitchen are waiting to be fitted. Serkan Sanivar, a youth club social worker employed by the City of Dortmund, explains: "We recently received some subsidies so now we're renovating."
The fact that the notoriously short-of-cash City of Dortmund is investing here could have something to do with the young people who come to the meeting place on this late afternoon. They are participants in Verfassungsschüler (Constitutional Scholars), a project that began in early 2018 and encouraged young people like Roshad Mirek, Mervan Dogan, Mounier el-Assa, Ibrahim Jabar, Medis Muska, Mehmet Akkusch and Oualid Az-Zouri to take a closer look at the Basic Law, Germany's constitution.
On equal terms with politicians
That is the core goal of the Verfassungsschüler project: creating an interest in government among young people who would otherwise possibly be lost for democracy and the political system of the Federal Republic and also perhaps even convincing them to participate. "The young people in this project have not only got to know the Basic Law, but also the media landscape in Germany," says Sanivar, who launched the project in Dortmund together with his colleague Suat Yilmaz. There was a similar project in Berlin-Spandau. "The participants have also learned how to discuss values and the nature of democracy." And they have organised events themselves too – ranging from a meeting with a member of the state parliament who belongs to the right-wing populist Alternative for Germany (AfD) to a discussion with the district mayor.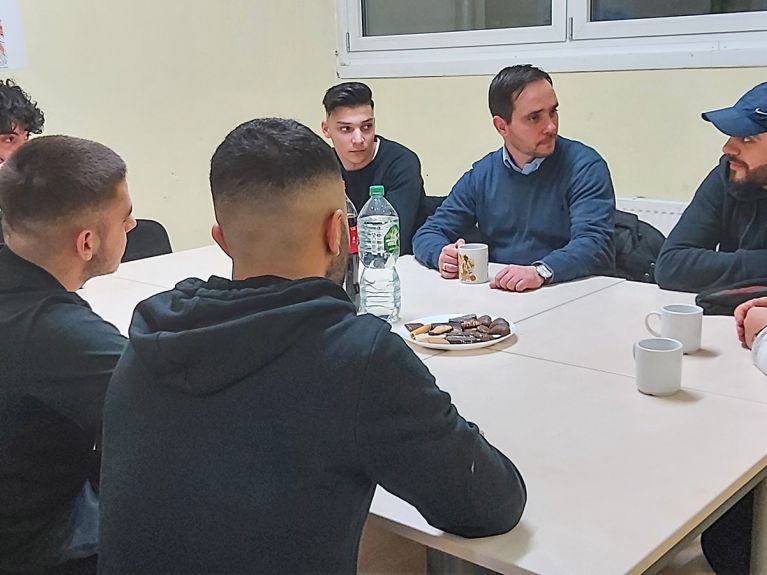 "What I found most interesting was that every right has a counter-right," says Mervan Dogan. Clearly, human dignity is inviolable; that's something they have all heard often enough. And a crime like murder definitely violates that right. "But then again there is also the right to self-defence, and the rights of one person must always be weighed up against the rights of another."
How far can rap lyrics be allowed to go?
Their discussion of this subject became especially lively when it came to rap music. How far can the lyrics go? Ibrahim Jabar talks about their controversial discussions on anti-Semitic verses. "I believe that some really go too far. But here artistic freedom stands in opposition to protection against anti-Semitism." This evening, many months later, the debate flares up again – and concludes with the insight that it is always important to appreciate the individual case. And every individual person.
As a result, the young adults from the Nordstadt district of Dortmund have almost come to their own situation and their own expectations of German society. That is because Nordstadt is discrimination turned into bricks and mortar: the area's inhabitants have almost no opportunities. People from 180 nations live in the Ruhr region's largest area of late 19th-century buildings, which is situated to the north of the city centre and the main railway station.
Once a proud working-class area and the birthplace of Borussia Dortmund, the city's sporting figurehead, for decades now Nordstadt has been the place of arrival for newcomers: migrant workers and refugees. The unemployment rate here is over 20%, and many local people live on welfare. Furthermore, many of them do not get the chance to work or train for a job when they say where they live – a factor that can contribute to young people becoming susceptible to extremism of a political or religious kind.
"In Year Eight at school I couldn't get a work-experience place for a long time," says Roshad Mirek. "Until I stopped putting the post code on my applications." He only told them where he lived after he received a firm offer. "If we pass the Abitur, the qualification for university, we've actually already done much more than the young people who come from other city districts," states Oualid Az-Zouri. "We started out on this marathon from much further behind, but still arrived at the finishing line at the same time." Many of the young people have a vocational qualification; some of them even have Abitur. A certain pride emerges among the group, also about their participation in the Verfassungsschüler project. "Yeah, we made it from here to the Bundestag, went to the Ministry of the Interior and met with Angela Merkel," says Medis Muska.
Many of them are now thinking about becoming active. Oualid Az-Zouri is flirting with the idea of joining the FDP. But there are still too few political role models, too few politicians with migrant backgrounds. Certainly, there is Cem Özdemir, the national Green Party politician, and Hanover now has a mayor with Turkish roots. Mervan Dogan is also thinking about getting involved in politics, but has not yet found a party that suits him. He went to Amnesty International once. "But they met in a bar with beer." Project leader Sanivar believes society also has an obligation to fulfil here: "Activities like these must become more culturally sensitive. Muslims will not participate if meetings are held in a bar." Mervan Dogan has a more differentiated view: "I don't have anything against beer, but I want to stay sober when I'm discussing human rights."
Serkan Sanivar is pleased with the impact of the Verfassungsschüler project. "What we've done here is outreach work for democracy." The young people at Treff Hannibal unanimously agree that all of them will go out and vote when a new city council and a new mayor are elected in Dortmund in September 2020. That's because they now know they have a say. And that they are listened to.
You would like to receive regular information about Germany?
Subscribe here: