Adopting a stance online
Human rights need people who fight for them. These three women and men make their voices heard in the digital world.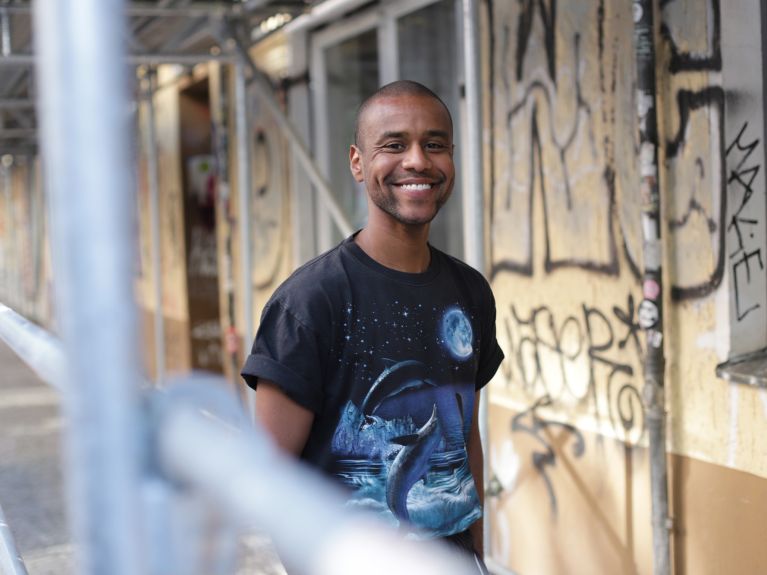 Tarik Tesfu
Online activist Tarik Tesfu is committed to combating racism, homophobia and sexism. A Berliner by choice, he became known in 2015 for his video column "Tarik's gender crisis" on YouTube, in which he humorously questioned gender clichés. Tesfu describes himself as a feminist and also stands up for what he believes in on Instagram. So why does he publicly fight racism? As he explained to the magazine Monda: "For me, it always felt wrong to hear white male experts talking in chat shows about what racism is, whether it in fact exists at all, and how I as a black person should deal with it. I wanted to do that myself."
Juna Grossmann
In her blog "Irgendwie jüdisch" (i.e. Somehow Jewish) and on Twitter, online columnist and author Juna Grossmann has been writing for many years about her life as a Jewish German. She frequently reports on the everyday anti-Semitism that she experiences. She also wrote a book on the subject in 2018. She often faces hostility for her commitment but does not let this intimidate her: "Writing is also my personal attempt to understand and categorise things. If I do not carry on with my work against anti-Semitism and racism now – when should I then?", she told TV channel rbb.
Teresa Bücker
For more than ten years, Teresa Bücker has been standing up for what she believes in online, especially with respect to women's and gender issues. She was editor-in-chief of the feminist online magazine Edition F until 2019 and won multiple awards for her work. She also contributes to debates on Instagram and Twitter, as well as in newspapers and chat shows. Bücker wants to make people think and inspire them to bring about changes to society – and to learn new things in dialogue with others. As she put it to Recherchenetzwerk Deutschland: "It is not enough to wear a t-shirt that has 'I'm a feminist' printed on it."
You would like to receive regular information about Germany? Subscribe here: