Fashionable step forward
Jewellery made from fish skin and bags from garbage – consumers want more sustainability in fashion. The industry is reacting with creative solutions.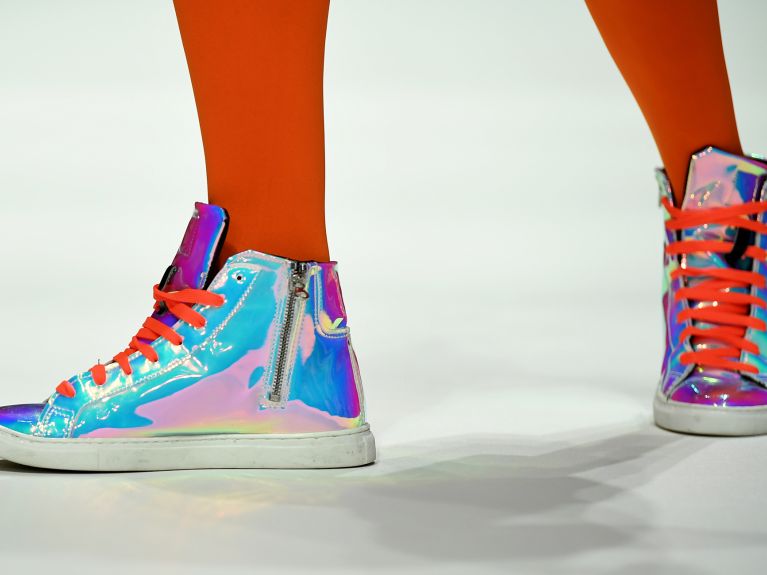 Fashion trends are short-lived and often change more quickly than the weather. Every German buys an average of twelve kilos of clothes a year. 90 percent of them come from non-European countries. The clothing sector is one of the most important consumer goods industries. However, textile manufacturing causes ecological damage: toxic sewage, microplastics in the oceans and high levels of energy and water consumption are the downsides.
Sustainable fashion instead of cheap seasonal models
A mind shift has therefore begun among many consumers. 'Slow fashion' – sustainability instead of disposable clothes – is the new motto. A few years ago, it was practised mainly in fashion capitals like Berlin, but in the meantime the trend is 'bon ton' all over Germany. According to a study conducted by TransFair, Germans spent about 129 million euros on fair-trade textiles in 2017 – an increase of 66 percent over 2016.
Rethinking in the fashion industry
The major international labels are on board, too. More and more textile giants are advertising with sustainably produced fashions and becoming more transparent. Within the framework of Greenpeace's Detox campaign, 79 global fashion companies have committed themselves to replacing pollutants with non-hazardous substances by 2020. German companies are also taking part, for example Adidas, Aldi and Tchibo.
Is this fashion or can I bin it?
The number of German fair-fashion labels is growing. 332 German brands are certified with the Global Organic Textile Standard (GOTS) label, documenting a sustainable production chain. Fashion designers are not only using well-established materials like cotton or linen. Jewellery made from fish skin, clothing from milk fibres and bags from plastic waste are conquering the market. They prove that there are no limits to creativity in sustainable textile production.
Sustainable fashion from Germany: T-shirts made of wood, recyclable outdoor gear, fair shirts from Africa