About prosperity and happiness
Germany in an international comparison: Find out here where the country stands in the rankings of international organizations.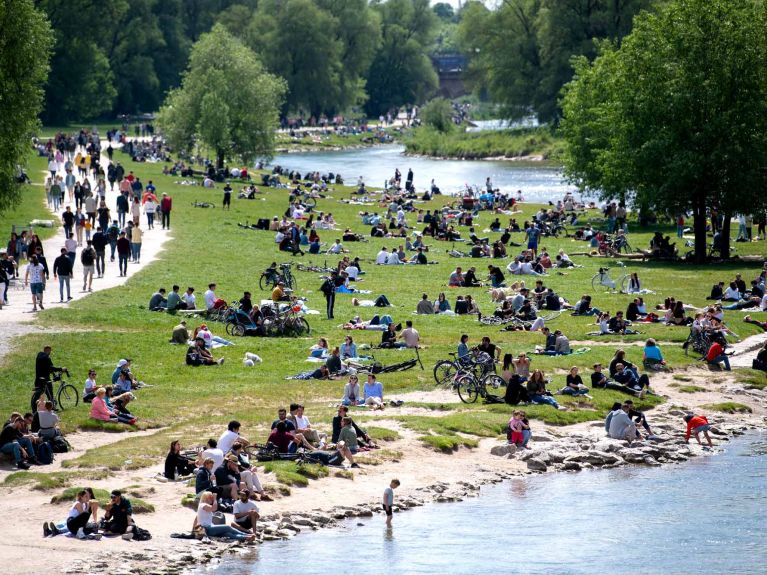 Germany is the most populous country in the European Union with 83 million people. It is followed by France (67 million), Italy (60), Spain (47) and Poland (38). Only 15 per cent of the population in Germany live in villages with less than 5,000 inhabitants, 77 per cent live in towns or large urban areas. A person's average life expectancy is about 81 years.
Here are some more key figures for Germen society:
6th place in the Human Development Index
The United Nations Human Development Index is designed to reflect the relative prosperity of the population in various dimensions. A formula is used to convert very different values, such as gross national product, life expectancy, school and further education, into a figure. The UN Development Programme UNDP publishes this index. In 2019 Germany held 6th place, while the first three places were held by Norway, Ireland and Switzerland.
7th place in the World Happiness Report
The UN also publishes the World Happiness Report which aims to assess how people feel about life in the countries around the globe. In 2021 European states also held the first three places in this report: Finland, Iceland and Denmark. Germany came in at 7th place.
33rd place in the Global Wealth Report
In contrast to the above-mentioned studies, the Global Wealth Report measures solely the cash-value assets of households, in other words savings, financial investments and real estate in one particular country. The report is carried out by the Swiss bank Credit Suisse, but other banks, insurance companies or consulting firms also publish similar indexes. In 2019 Switzerland, Australia and Iceland topped the list. Germany came in at 33rd place.
Quick facts
54
per cent
of Germans live in rented accommodation. Only about 46 per cent own a house or an apartment.
27
per cent
of the monthly income accounts for housing costs on average.
44.6
square metres
is the average amount of living space per person.
6.72
euro per square metre
is the average rate that Germans pay for a rented apartment.
2
persons
live in an apartment on average.
13th place in the World Press Freedom Index
A major indicator for the democratic development of a country is the level of freedom of expression which is always reflected in a free press. The World Press Freedom Index aims to gauge this press freedom. The survey is carried out by Reporters Without Borders (RSF). In 2021 Germany comes in at 13th place. The front runners are Norway, Finland and Sweden.
You would like to receive regular information about Germany? Subscribe here: