Housing in Germany
What is German Gemütlichkeit? Find out what a typical living room looks like and which piece of furniture is a must.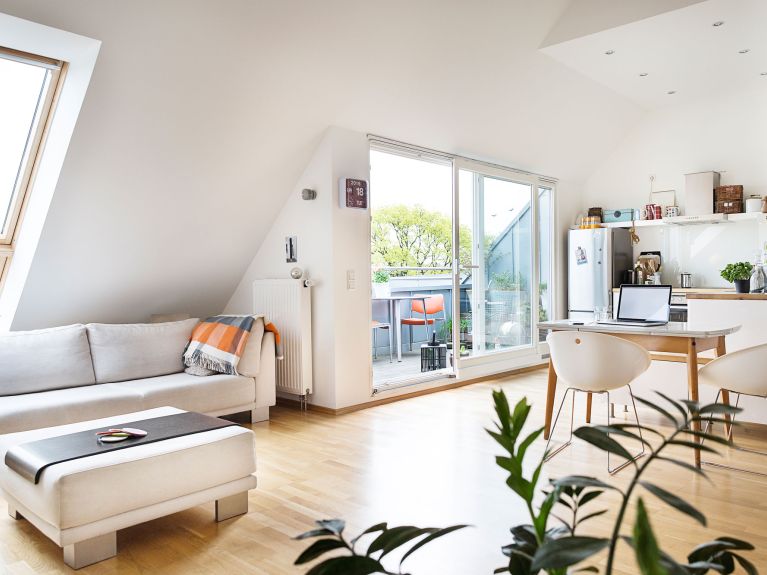 Germany. 4ZKB is the code for a typical German rented apartment. Translated, it stands for four rooms plus kitchen and bathroom. A second B at the end represents an element of luxury: the apartment then has a balcony. A normal layout involves a hall with coat rack and, leading off from it, a living room, bedroom, children's room, kitchen and bathroom.
If you visit Germans at home, you will normally be received in the hall. There the question arises as to whether to take your shoes off or keep them on. Visitors are then asked to enter the living room and sit on the sofa, where they immediately sink into German cosiness. An individual touch is provided by photos, pictures, houseplants and decorations that often reveal a lot about the inhabitants. White woodchip wallpaper is no longer the norm; bold colours are the order of the day.
My home is my sofa
According to a survey, the sofa is people's favourite piece of furniture. The average German spends three hours a day on this island of cosiness. A flat-screen television also belongs to the typical inventory and forms a line with a coffee table and the sofa. Massive wall units, on the other hand, are now disappearing from German living rooms. They are becoming superfluous, because books, videos and CD collections can now be stored digitally.
The kitchen is currently experiencing a renaissance as a communication centre and meeting point. Where there is enough room, people put a large dining table in the middle of the kitchen for convivial gatherings. Cooking with friends is celebrated as an event.
Housing blocks in Germany have cellars. That's practical because you can store things that no longer fit in your apartment downstairs. Even rented apartments usually have a lockable storage area in the basement. 
Many Germans regard their apartments as havens of privacy. They hang curtains inside their windows and surround their gardens with fences. Spontaneous visits are rather unusual; even close friends give advance notice of visits.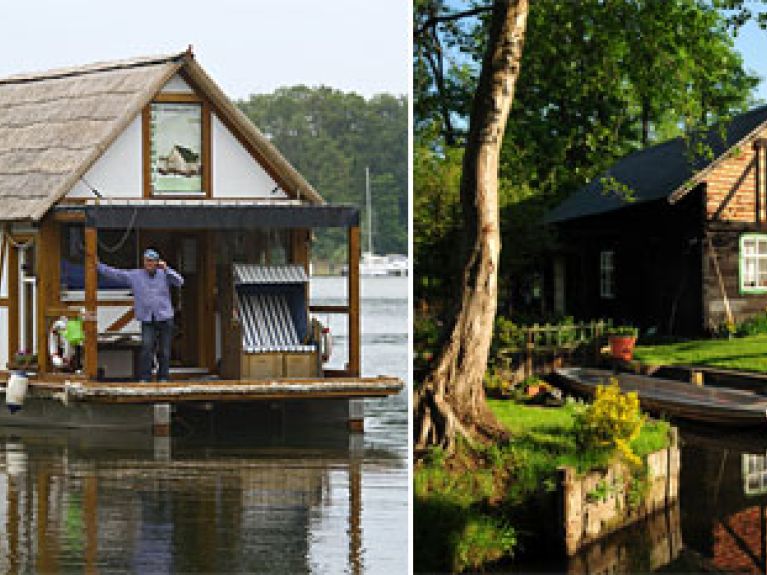 Daily living and dream homes
Most Germans live in rented accommodation in multi-family buildings, but many would like most of all to own their own small house with a garden. Because property prices have been increasing steeply in big cities for several years now, owning your own home is only affordable for large numbers of people in rural areas. However, people who want to live in the country often have to accept long journeys to work.
Nevertheless, unusual housing dreams can come true with a little courage and improvisational talent – for example, living on water. Several colonies of houseboats have been set up in waters around Berlin, Leipzig and Hamburg.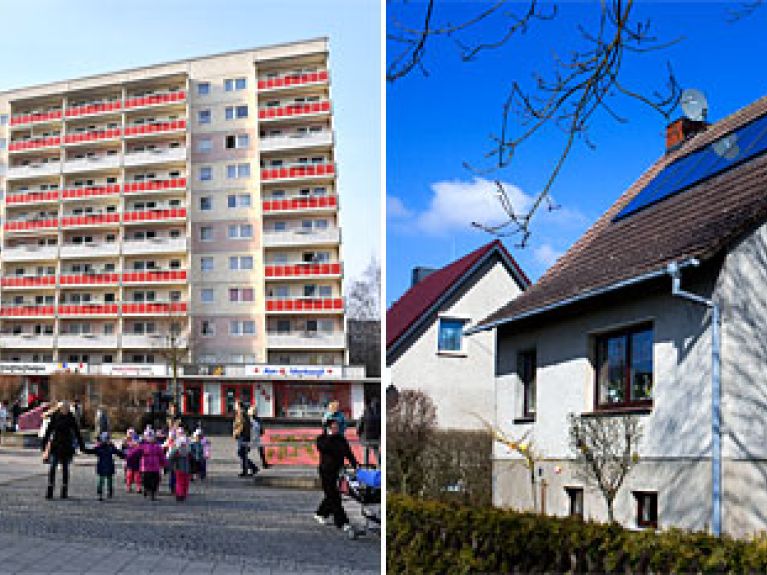 More room in a small space
Since the immediate post-war period the amount of living space has continued to increase. Currently, everyone in Germany has an average of 46 square metres of living space. However, housing is becoming increasingly scarce and expensive in cities. People who want to live in popular city districts are making do with less room. That's why ideas for living in small spaces are in trend. 
Expensive student apartments
High rents in university cities are especially a financial burden for students. In Munich they have to find 634 euros a month to rent a typical student apartment measuring 30 square metres. Students in Leipzig pay only roughly half that amount. At the beginning of the semester, however, even rooms in shared apartments are often highly sought-after and in short supply.
Are tiny houses the solution? One of the projects that has received most attention is the 100-euro house that was designed by Van Bo Le-Mentzel, a young architect at Bauhaus Campus Berlin.  
This is still a utopian dream. Undoubtedly, however, Germany needs new and flexible housing models for a changing society – ranging from low-cost student accommodation to age-appropriate housing for older people.
Facts about housing in Germany
54% of Germans live in rented accommodation – more than in any other country in Europe. Only roughly 46% own a house or apartment.
Depending on region, rental costs amount to between one quarter and one third of monthly income.
Munich is the city with the highest rents, followed by Frankfurt and Stuttgart.
On average, every inhabitant has access to 44.6 square metres of living space.
Most Germans live in multi-family houses with up to ten apartments. Roughly one quarter live in large housing blocks or high-rise buildings and one third in single-family homes.
Statistically, each household consists of two people.
Roughly one in six Germans lives alone.
Three or more generations live together under one roof in only 0.5% of households in Germany.