Faith and peace
Religion in Germany and the "Religions for Peace" World Assembly.  We present the facts.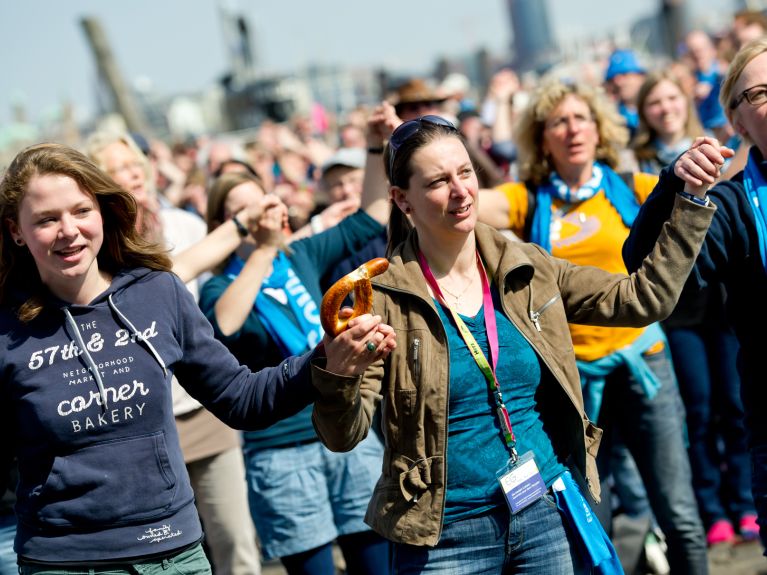 Religions in Germany
84 percent of the world's population belong to a religion – a percentage that is rising all the time. The opposite trend can be observed in Germany, however, where fewer and fewer people feel tied to a religion. In a survey, almost 80 percent of young people said that they could live without a religious faith.
While one in two people in Germany still belonged to one of the two major Christian churches in 2017, this number will fall to just one in three by 2060, according to a study carried out by the University of Freiburg. Around 36 percent of the population are already unaffiliated with any religion.
More than 1.2 million Muslims have made a new home for themselves in Germany since 2011. Consequently, between 4.4 and 4.7 million Muslims now live in Germany. That is around 5.4 to 5.7 percent of Germany's total population of 82.2 million people.
After the Shoah, only around 15,000 Jews were still living in Germany. Today, more than 100 Jewish communities have some 107,000 members.
Peaceful coexistence
Germany's basic law guarantees freedom of religion for all. The state takes a neutral and tolerant approach towards all religions. Whether people adopt a religion and join a religious community is a personal decision.
All the same, the state and religion are not strictly separated in Germany. The state works together with religious communities and organises for example religious education at schools.
Religion and foreign policy
For some years now, German foreign policy has been open to impetus from civil society. With a view to strengthening the constructive, peace-promoting potential of religious communities, the Federal Foreign Office is building up an international and interreligious network of religious representatives.
World Assembly of the "Religions for Peace" in Lindau
The Religion and Foreign Policy section at the Federal Foreign Office will be supporting the tenth World Assembly of the Religions for Peace (RfP) organisation from 19 to 23 August in Lindau. 900 representatives of different religions, governments and institutions will be taking part. The World Assembly will be opened by Federal President Frank-Walter Steinmeier.
"Caring for our Common Future – Advancing Shared Well-being" is the theme that will see the various actors discuss what religions can do to promote peace in times of war, intolerance and terror.
If you want to keep track of the World Assembly "Religions for Peace" as it unfolds, visit our Instagram channel. From 19 to 23 August Agathe from Kenya, Jaqueline from the Philippines, Jesslin from Indonesia, Merylene from South Africa and Linda and Riem from Germany will be reporting for you live from Lindau at Lake Constance.
You would like to receive regular information about Germany?
Subscribe here: