Learning through laughter
In two series of videos, refugees explain how you can quickly find your feet in Germany – and how funny the differences between Germans and Syrians can be.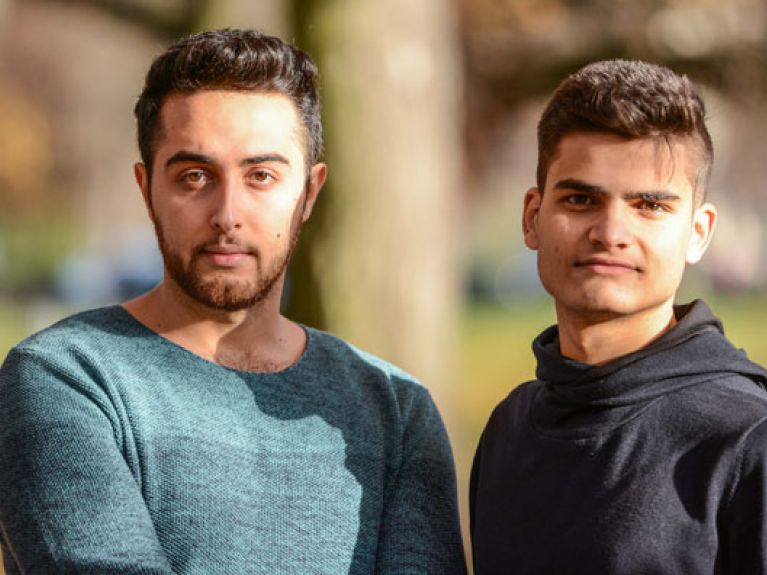 Ticket machines can sometimes drive people to despair. Is the All-Around Ticket also valid for Zone 5? How many stops can I travel with a short-trip ticket? Am I really better off buying the 4-journey ticket? Germans who try to travel on public transport outside their home town will often not immediately understand how an unfamiliar system works. Someone from outside Germany will find it even more difficult. And that's why Deiaa Abdullah stands on the platform and has to ask what to do next. Deiaa comes from Syria and is just pretending to be clueless. The scene is part of the Youtube series called Lass uns lernen! produced by Rody Almahmoud. The Syrian film-maker hopes his videos will make it easier for refugees to find their feet in Germany.
Almahmoud chose the scene at the ticket machine because it is a typical situation that creates problems for refugees when they arrive. He lets his main character experience lots of these everyday situations. How do I register with the health insurance fund? How do I find an apartment? How do I open a bank account? These are questions that confront Deiaa. Almahmoud's films do not only enable viewers to increase their vocabulary and improve their knowledge of German grammar. "I also want to help people understand the culture better and explain to them how Germans think," says Almahmoud, who now lives in Cologne. "Then you can make contacts more easily."
Tens of thousands of viewers
After all, explains the 30-year-old, establishing contacts was one of the most difficult things when he first arrived. That's why he soon began learning German at the Volkshochschule (VHS), the adult education centre you will find in most German municipalities, and also advising other people who wanted to learn German there. He hopes Lass uns lernen! will help others reach language proficiency levels B1 and B2. And there are large numbers of them: Almahmoud reaches tens of thousands of viewers with each episode on the Youtube channel run by Deiaa Abdullah, who also helps people to learn German with his own series.
The two Syrians Abdul Abbasi, 22, and Allaa Faham, 20, are even more successful with their videos – although in a very different way. Their Youtube channel is called German LifeStyle GLS and presents sketches and experiments in which they exaggerate German and Syrian stereotypes – and in the process use humour to improve mutual understanding. "When people are afraid of the unfamiliar we have to find a way of overcoming that to make interaction possible," says Abdul Abbasi. "Humour is a simple and very effective means of doing that."
They find the subjects for their videos above all in everyday life. The comical elements in their films often arise out of the cultural differences between Germans and Syrians. Whether while flirting, greeting or, for example, paying in a restaurant. "In Syria it is normal for one person to pay the bill for everyone and that you even argue a little about who is allowed to do that," reports Allaa Faham. "In Germany everything is calculated separately." They show how absurd that can sometimes seem in a funny video. Sometimes, however, they also present a more thoughtful tone: for example, in the video in which Faham addresses Germans who are afraid of refugees.
Their approach is obviously very well received. "We often hear that people like how we lampoon both cultures a little," says Abbasi. And because the videos always take into account both languages, they are accessible not only to Germans, but also to Syrians. In the meantime, Abbasi and Faham have over 100,000 fans on Facebook and receive large numbers of positive comments, such as: "You are mediators between the cultures; you unite where others only divide. Hats off to you!"
But the two Youtube stars are not only active mediators online. They are also involved in projects like Life Back Home. They tell their personal stories in German schools: what was life in Syria like before and during the civil war, and what is their life like today in Germany? This enables them to reach young people with their message and their mission: approach one another – cast off prejudices – live together peacefully! In 2016, Abbasi and Faham were honoured with the Integration Medal of the Federal Government for their efforts.
Patience on both sides
Despite their great success, both of them would most of all like not to have to make any more films. "Of course, it would be great if we could very soon say: 'We're done; our videos are no longer required'," says Allaa Faham. "But I believe we also need patience on both sides." And accordingly they are carrying on – and are now touring Germany with their own stage programme.
The two of them later want to pursue different career paths. Abdul Abbasi wants to be a dentist and is currently studying in Göttingen. Media technology student Faham, on the other hand, wants to make filming his career – as does Rody Almahmoud. Almahmoud hopes his videos will take him a step closer to achieving his personal goal: finding a traineeship or a job in the film industry. Filming, editing, sound recording, screenwriting – Rody Almahmoud already does all these things himself. "The series enables me to demonstrate: I can do that!" he says. And he has already received his first commission: he produced a promotional film for the VHS.