"Make your identity your strength"
What is it like to fight for one's rights? Transgender activist Nayyab Ali told us about her activism.
Interview: Maren van Treel / 27.02.2021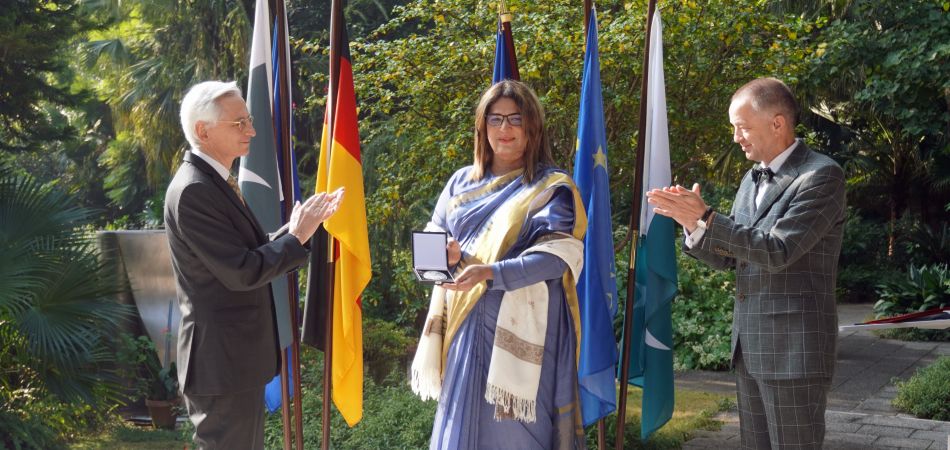 Nayyab Ali is a Pakistani human rights defender, transgender activist and social scientist with ten years of experience in working on gender equality, livelihoods and economic empowerment. As an independent consultant, she has been associated with UN agencies to advocate transgender rights. In 2020, she was awarded the Franco-German Prize for Human Rights.
"My identity as a transgender woman is a source of courage for me. One day, I was attacked with acid and that was when I decided that if I survived, I would dedicate my whole life to the transgender movement and transgender rights.
When I was 17 and in university, I started writing articles and talking about transgender issues. It was around the time when a very prominent lawyer filed a petition for the protection of transgender rights which inspired me.
In 2018, Pakistan's parliament passed the Transgender Persons (Protection of Rights) Act that gives transgender citizens fundamental rights. I was involved in drawing up the bill. What is especially historical about it is the clause of self-perceived identity. That means that if you declare yourself to be transgender, your word counts. You don't have to get a certification.
Make your identity your strength and you will do a lot for society
Nayyab Ali, transgender activist
In 2017, I submitted a proposal for a school for transgender people to the government of Punjab. They initially supported me for three months. After the evaluation, they were very impressed so it went on for two more years. We taught literacy and many vocational skills to all transgender people who were living openly in the Okara district. However, the project ended in 2019. But we also achieved that transgender people can now get an education in many mainstream institutions.
My advice for other transgender people who are not being accepted in their society is that there is nothing wrong with our identities. Make your identity your strength and you will do a lot for the betterment of society! Get an education because your capabilities and your good work are beyond your gender!
The Franco-German Prize for Human Rights is a source of encouragement and acknowledgement not only for me but also for my community. It helps us to continue our work and it put a lot of pressure on our government to do more for the trans community. "
You would like to receive regular information about Germany? Subscribe here: