Help in the virtual world
Most young people are permanently online – and their social engagement is also moving onto the Internet. The goal then is to have a positive impact offline too.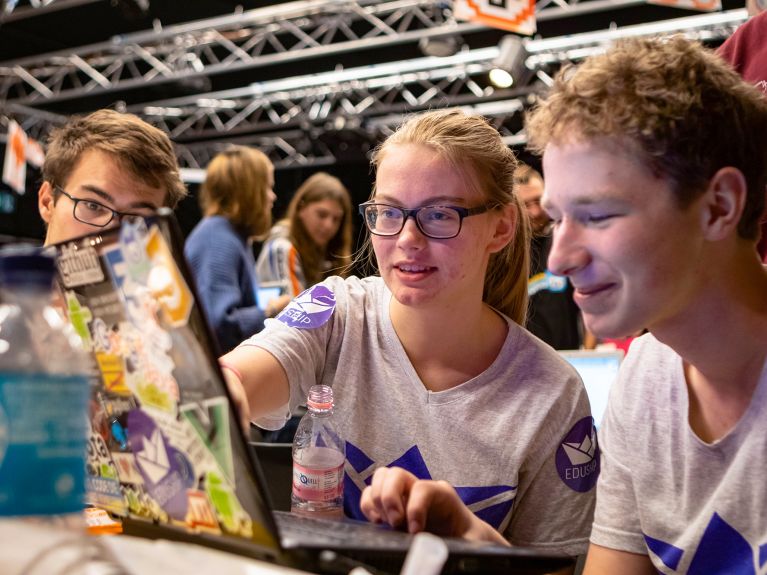 "I want to make the world a little better with my ideas," says Jana Zeller from Saarbrücken. The 18-year-old high-school student has now been active in Jugend hackt for four years. The initiative organises weekend events at which young people work together in groups to design meaningful phone apps and computer applications. It is focusing on the environment in 2019, and apps for bike sharing and efficient food transportation have already been developed this year.
Jana explains that the events did not only show her how important data protection is, but also how essential it is for data to be freely accessible. For example, she programmed an app using data from Deutsche Bahn, the German rail network, that finds train connections at barrier-free stations.
Not all the prototypes lead to marketable products. Sometimes they lack sponsors, sometimes time. "Failing is OK," says Jana, who has already cooperated on apps with young Turks and Indians. She says you learn to raise your tolerance of frustration while you're programming. But there are also success stories, like the app that helps refugees find their way around. The prototype was developed at Jugend hackt.
Support against cyberbullying
Young scouts at Juuuport advise people of the same age about problems they have on the Internet – free of charge and anonymously. One of these scouts is Fabian Pforte from Hannover. "I've always been someone who had a sympathetic ear for friends," says the 18-year-old. Because he knows a lot about Snapchat and Twitter he has no difficulty in answering questions about security settings or technical problems.
However, most enquiries are about cyberbullying. They are often about photographs that have been posted on the Web against the wishes of the person concerned. Like the other 15- to 21-year-old scouts, Fabian has received training for his voluntary work. What advice would he give if an ex-boyfriend posts naked pictures as revenge? "First of all, the girl should ask him to delete the photo. If he doesn't, she should inform him of the possible legal consequences," he advises. If the girl is a minor, she could report the boy for distributing child pornographic content. Fabian already cites the relevant laws in his replies. Usually a threat is enough, but sometimes Fabian advises people to report the activity. After all, bullying on the Internet is usually also associated with harassment in the offline world.