Joining forces for better support
Responding to disasters with a great variety of aid from a united body: How Aktion Deutschland Hilft co-ordinates missions in crisis situations.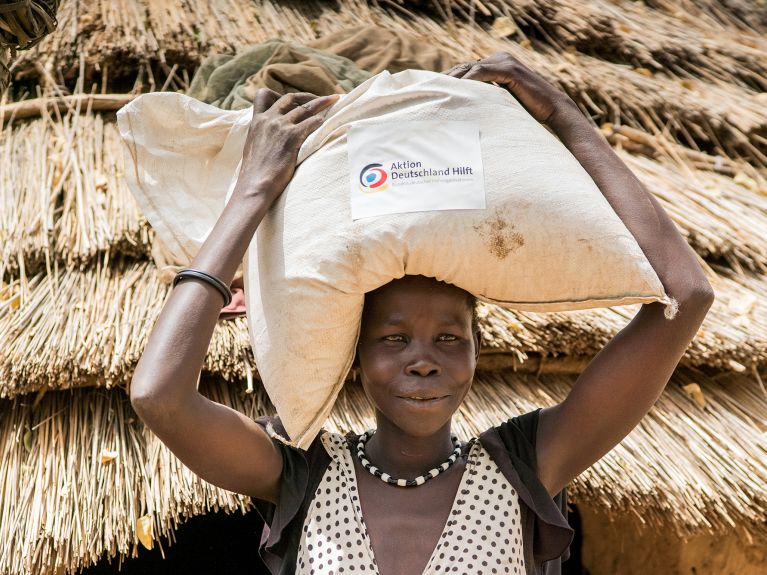 The storm brought the water, and the water brought the disaster. Cyclone Idai smahed into the coast of Mozambique at 190 kilometres per hour and plunged the country into chaos. This one night brought death to hundreds of people and made millions homeless.
Aktion Deutschland Hilft bundles expertise
Natural disasters like this require rapid humanitarian aid, and Germany is one of the providers. In order to reduce overlaps and supply gaps in German relief efforts, the coalition Bündnis Aktion Deutschland Hilft (ADH) was founded in 2001. That was when 23 German aid organizations joined forces to help in crisis situations such as in Mozambique. This means that instead of acting independently and alone, each organization is in permanent contact with the ADH action office in Bonn.
The organizations take part in teleconferences to co-ordinate who will distribute mats and tents, who will be responsible for supplying food and drinking water, and who will supply medicines and hygiene products.  In addition to this, the organizations exchange experiences and reports from the region with each other. In the case of Mozambique, five ADH partner organizations were already present in the country with their own projects. Thanks to local colleagues they are networked with the population, know various structures, contact partners and conflicts. The ADH aid workers combine their specialist knowledge with the expertise of the partner organizations, and in this way they tailor the emergency relief to the needs of the people in the disaster areas.
German emergency relief and disaster prevention in 63 countries
The emergency relief is financed by a joint donations account for all the coalition partners. In this way the partner organizations can concentrate on the humanitarian relief in the field. They are no longer dependent on fluctuations in the levels of the donations, or the question of whether there are enough funds for the mission.
Since it was founded, the Aktion Deutschland Hilft has financed and carried out more than 2,000 projects. The coalition partners are involved in emergency relief and disaster prevention in 63 countries. Consequently, millions of people around the globe have received humanitarian aid from Germany, irrespective of their ethnic origins, religion or political convictions.