Providing help in acute emergencies
She knows no fear: Fiona Bay is a nurse on an aid mission with Ärzte ohne Grenzen (doctors without borders) in Yemen. Here she describes her experiences.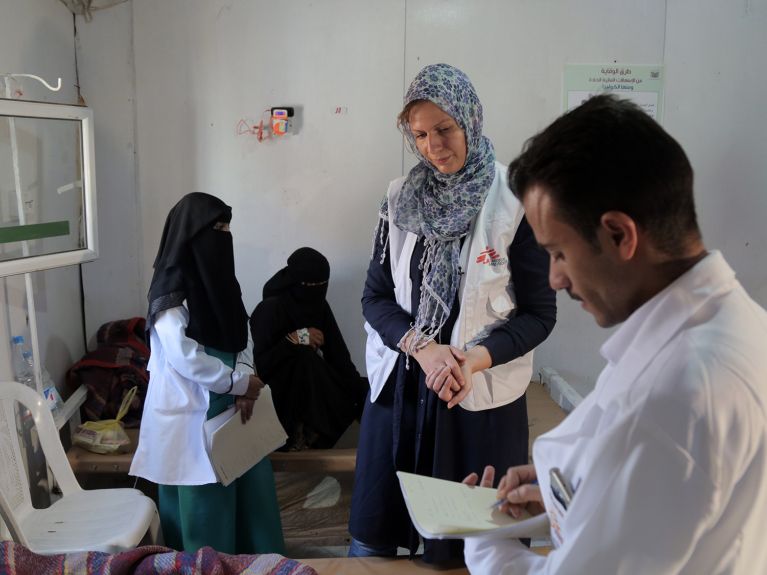 Air raids, ground fighting, devastated infrastructures, hardly any intact hospitals, epidemics, famine: the civilian population in Yemen has been suffering from the effects of war for years. The United Nations are now calling it the biggest humanitarian disaster in the world. Anyone who is willing to help needs strong nerves and must be prepared to face some huge challenges.
"I don't feel afraid"
People like Fiona Bay. The nurse from south Germany has been working in Yemen with the private aid organization Ärzte ohne Grenzen since November 2018. She is involved in the medical team management at two hospitals in Amran, to the north of the capital Sanaa. "I don't feel afraid during my missions," says the 30-year-old nurse who last worked in the emergency unit at a hospital in Germany and has been on several assignments with Ärzte ohne Grenzen since 2015, including South Sudan, Northeast Nigeria and Iraq. "I'm glad that I have the necessary physical and psychological stamina, and that I can do some good." Ärzte ohne Grenzen are very careful about security. "And in Yemen the people know us and value our work."
Ärzte ohne Grenzen have been active in Yemen since 2007. It is the German section of Médecins Sans Frontières, the independent organization for emergency medical relief that was founded in France in 1971. Teams from Ärzte ohne Grenzen are currently providing aid in 70 countries. Financed by private donations, they perform operations, provide birth assistance, treat undernourished people and launch vaccination campaigns. The teams come from a variety of disciplines, such as chemists, nurses, staff for technical logistics, midwives, surgeons and other specialized doctors.
Surpassing your limits to save lives
In her project, Fiona Bay is one of five international colleagues and more than 300 national colleagues working with Ärzte ohne Grenzen. She no longer treats patients herself. "Most of my work is in the office. I co-ordinate between the wards and the two hospitals. I'm the contact person for the medical staff, replenish medical supplies and collect data, for instance on new cases of cholera."
"It isn't always easy. Sometimes I despair at the unfair distribution of the quality of life in the world," she says. It's the challenge that motivates her: "I learn something new every day, and I'm often pushed beyond my limits. In the end, we're saving human lives."