How the EU is organized
The most important European institutions and their tasks – an overview.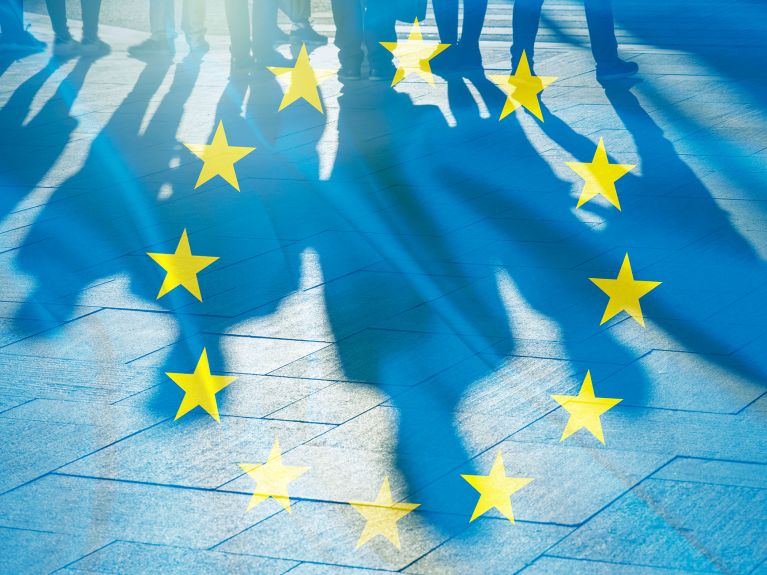 European Union
In 1957, the Federal Republic was one of the six founder members of the current European Union (EU). Since 2013, the EU has consisted of 28 member states and the euro is the official tender in 19 of them. Germany contributes about 20% to the EU budget.
European Parliament
The European Parliament is the parliamentary organ of the European communities. It is made up of 751  members who are directly elected by the pop­ulation of the 28 member states for five years. Each member state is allocated a certain number of seats depending on the size of its population. Germany, the largest member state of the EU, has 96 MEPs. The Parliament has legislative, budgetary and monitoring powers, though no right of initiative in legislation. The Parliament sits in Strasbourg; plenary sessions and committee meetings also take place in Brussels and Luxembourg.
European Commission
The European Commission is head­quartered in Brussels and is a politically independent supra-national body that represents and safeguards the interests of the entire EU. The EU Commission has the right to table proposals (right of initiative) for all common legal acts; as "guardian of the treaties" it ensures that common law is adhered to and in addition enjoys executive powers, for example with regard to the budget and monopolies laws. Finally it publicly represents the interests of the community. The Com­mission is headed by the Commission President, Since 2019 this is Ursula von der Leyen from Germany.
Council of the European Union
The Council (of Ministers) is the most important EU legis­lative committee. Each member country delegates one minister. The Council and the EU Parliament share legislative powers and responsibility for the EU budget. The Presidency of the Council) rotates every six months.
European Council
The European Council determines the political guidelines of the EU. Chaired by the President it assembles at least twice a year and is made up of the heads of state and government as well as the President of the Commission and the High Representative of the Union for Foreign and Security Policy.
You would like to receive regular information about Germany? Subscribe here: