Protecting children from violence and suffering
How Germany campaigns for children's rights worldwide.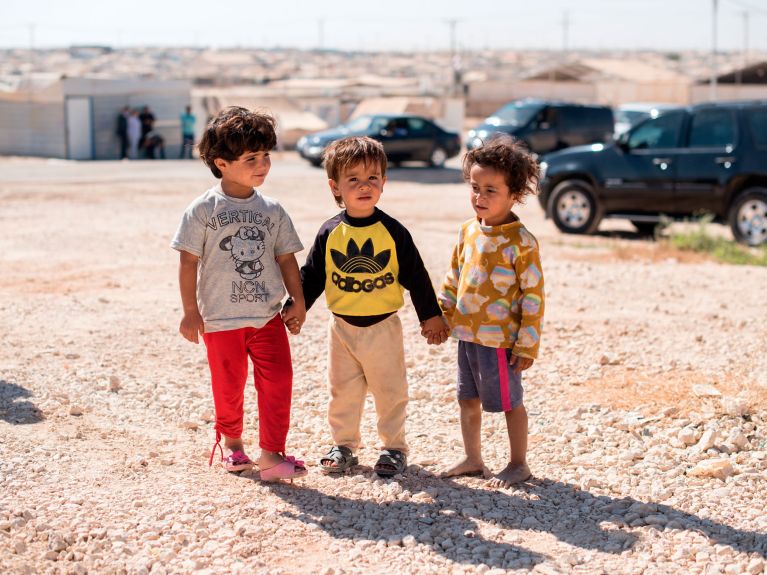 Protecting children from violence, abuse and exploitation is a central concern of the UN Convention on the Rights of the Child, which Germany signed in 1992.
Yet the figures from 2017 are a warning to the international community: more than 10,000 children were killed in wars and conflicts. In addition, the United Nations recorded 21,000 crimes against children, such as sexual violence, attacks on schools and the recruitment of child soldiers. Worldwide, more than 250,000 are forced into military service.
Action for children's rights at the UN Security Council
During its membership of the UN Security Council in 2011/12, Germany headed the Working Group on Children and Armed Conflict. The country also wants to continue promoting the protection of children as a non-permanent member of the UN Security Council in 2019/2020. The German government advocates a ban on the deployment of child soldiers and supports projects to disarm former child soldiers and reintegrate them into society.
German Alliance on Child Soldiers
Ten non-governmental organizations, including UNICEF ​​and World Vision, have joined forces to fight the abuse of children as soldiers. They demand a minimum age of 18 for the recruitment of soldiers and a moratorium on exports of small arms to conflict zones. The alliance publicizes the topic with events on February 12, Red Hand Day.
Protection for refugee children
52 percent of refugees worldwide are children. That is why special attention is paid to them in Germany's initiatives to protect refugees and combat the causes of migration. These include preventive healthcare, psychosocial help, rebuilding destroyed schools and setting up schools in refugee camps.
Children's rights in development cooperation
The rights of children and adolescents became even more firmly anchored in German development policy with the adoption of the Agents of Change action plan in 2017. Important goals are health and good nutrition, protection against violence and discrimination, access to education and the abolition of exploitative child labour.