"Growing as united Germany"
As current President of the Bundesrat, Minister President Bodo Ramelow of Thuringia is the host of the national celebration for the Day of German Unity.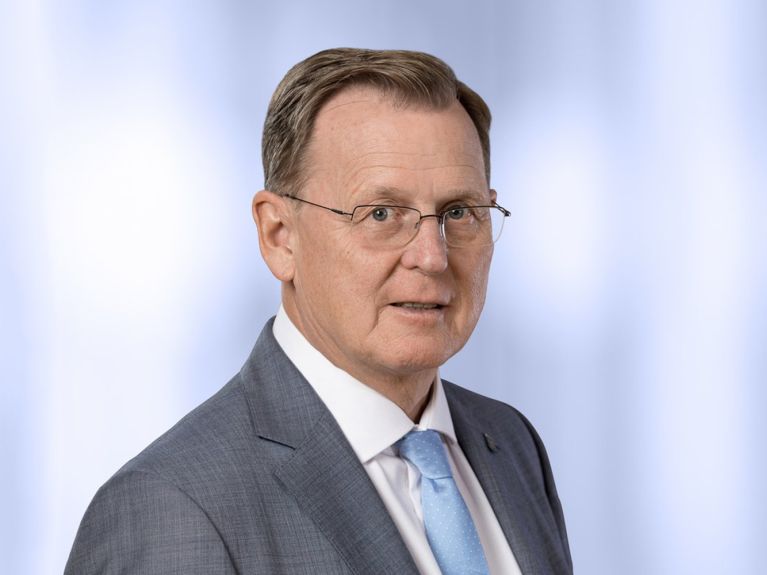 This year the official festivities for the Day of German Unity on 3 October are taking place in Thuringia. The host, Minister President Bodo Ramelow, is currently President of the Bundesrat, the chamber that represents the 16 German states. He speaks about federalism in Germany, his experiences in East and West Germany, and active solidarity.
Minister President Ramelow, does the fact that German unity is celebrated in a different state every year and not always in the capital Berlin also have international significance?
Another good thing about this year as President of the Bundesrat is that I am allowed to represent the German states abroad. People in other countries are often very surprised to discover what federalism means in Germany. The way we effect the separation of powers between the federal and state levels in two parliamentary chambers is rather unique in the world. Here the Bundesrat represents all 16 German states. A form of federalism based on equality despite all the differences between individual states could also offer favourable opportunities for resolving conflicts in other countries because it involves taking joint responsibility.
What is Thuringia's main message for this year's celebration of German unity?
From the very beginning my credo was: growing together to grow closer together. We want to show what Thuringia has achieved and can contribute so that the united Germany can continue to grow together. I personally came to Thuringia in East Germany from West Germany 32 years ago. Although I had already visited the GDR several times for family reasons, it was only in 1990 that I noticed I didn't understand anything about life there. We may have spoken the same language, but our socialisation had been completely different.
What was your personal experience of the period from the fall of the Wall on 9 November 1989 until reunification on 3 October 1990?
I didn't have any time to think about it a lot. After arriving in Erfurt as a West German trade unionist in February 1990, I worked around the clock for the first few months. People then had many worries. What will happen to my family and to my firm? What will happen next? I listened and tried to develop solutions.
People encountered German unification with curiosity and trust in the future, but that period also called into question their whole life until then. The changes ranged from identification documents to healthcare funds, from jobs to retirement pensions. West Germans cannot imagine that at all, but it was the collective experience of people in the eastern part of Germany – irrespective of whether they hated the GDR or loved it.
Do differences still exist between East and West Germany?
The West German Federal Republic from which I came no longer exists either. But the process was gradual there. It is not associated with specific days like 9 November 1989, when the Wall fell, or 3 October 1990, the Day of German Unity. That's the significant difference between East and West.
This collective memory of the GDR remains and is also being passed on. One example is the Jugendweihe, the ceremony in which teenagers are given adult social status. It continues to be celebrated in the East, where 75% of people are not members of any church. In the West, on the other hand, there are Communion and Confirmation ceremonies in church. Or there's the district nurse in the former GDR. That was a nurse who also provided medical care in villages. We're now calling for district nurses of this kind again. There are things from the GDR era that would help us in the whole of Germany. And that is not a glorification of the GDR.
German reunification now lies 32 years in the past. Where do the East German states stand today and how do you assess the state of German unity?
We're now in a good position economically in East Germany. If, for example, you add together the economic product of the three German states of Thuringia, Saxony and Saxony-Anhalt, this region in Central Germany would rank eleventh in a comparison of European countries. Thuringia is the home to 60 world market leaders: from producers of skirting boards to the manufacturer of tubes for x-ray machines. Half of all the glass bottles in Germany are produced in Thuringia. The problem is that nobody knows that Thuringian firms are world market leaders in many sectors and that Thuringian products are used all over the world. However, we don't want to moan, but rather make people aware of the strength that has developed in Thuringia over recent decades.
We also want to show what solidarity means. Here's one example from the period of reunification: today we all admire the old town in Erfurt, the state capital of Thuringia. Thirty-two years ago, however, it was on the verge of falling to pieces. At that time 1,000 roofs in the city were tiled with a programme from Hesse in West Germany. We need a mixture of gratitude and recognition for our respective efforts to encounter one another with mutual respect.