60 years of diplomatic relations with Myanmar
To mark this occasion the Federal Foreign Office is showing the exhibition Culture and Science: Key to the Future.
02.09.2014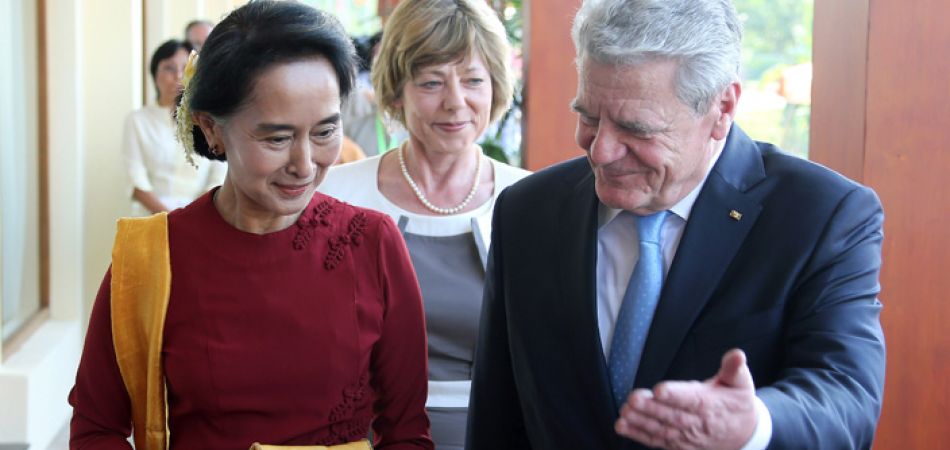 "As reunited Germans, we know how lengthy, and sometimes painful, reform and transformation processes are," says Christian-Ludwig Weber-Lortsch, German Ambassador in Myanmar. "That's why we became involved early on, to help the people rebuild their country." Since opening up in 2011, political relations have intensified, economic exchange has been growing at a double-digit rate and cultural cooperation has rapidly increased.
Federal President Joachim Gauck visited Myanmar in February 2014 and met with President Thein Sein, opposition leader Aung San Suu Kyi and representatives of civil society. There has been a Delegate Office of German Industry and Commerce in Yangon since November 2013. And the German Asia-Pacific Business Association organises delegation trips to the country. At the beginning of 2014 the Goethe-Institut reopened its doors in Yangon.
In 1954 the Federal Republic of Germany agreed to establish diplomatic relations with the Union of Myanmar. For many years the relations were borne by the Federal Republic's strong development cooperation involvement. But the political events of August 1988 and the human rights violations in Myanmar, which culminated in the bloody suppression of the mass protests in September 2007, adversely affected the relations between Germany and Myanmar for several years. Now the partnership is gaining strength again: "You can count on Germany," said Federal President Gauck during his visit.
An exhibition organised by the Federal Foreign Office in Berlin will now be marking the 60th anniversary of diplomatic relations. The Culture and Science: Key to the Future exhibition is dedicated to the cultural and scientific exchanges between the two countries. During the opening ceremony on 3 September 2014, the representatives of Myanmar will be presented with a 3-D digital scan of the Golden Letter which the Burmese King Alaungpaya sent to George II, Prince Elector of Hanover and King of Great Britain, in 1756.The original letter is in the Gottfried Wilhelm Leibniz Library in Hanover.
1954: Establishment of diplomatic relations between the Federal Republic of Germany and the Union of Myanmar