How Germany votes
Election to the Bundestag (Federal parliament) – here we answer questions such as what rules apply, who can vote and what a ballot paper looks like.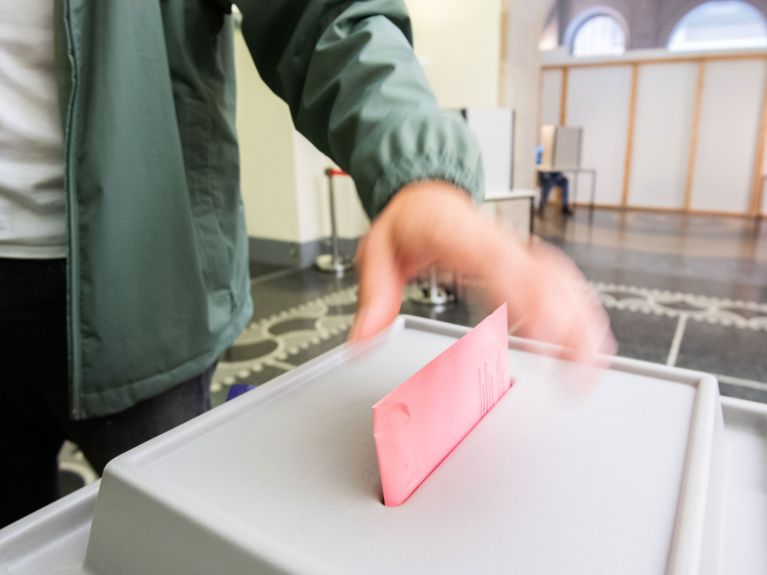 General, equal, direct, secret – what does that mean?
Germany's Basic Law (constitution) stipulates that the election of MPs to the Bundestag must be general, equal, direct and secret. This means that German citizens are eligible to vote. Restrictions can only be made on an individual basis and only by a court of law. Every vote counts the same, there are no 'middlemen' or electors (e.g. in an electoral college) between voters and MPs. Finally, the Basic Law ensures that everyone can cast their vote alone and unobserved and that the vote cannot be traced to the voter – and that two adults are not allowed to use a voting booth at the same time – even if they want to.
Do citizens have to register to vote?
No, every person who is eligible to vote is automatically entered on the electoral roll in the municipality in which they are registered as resident; each person is notified. Only Germans living abroad have to register. Unlike in local and European elections, foreign EU citizens are not entitled to vote in Bundestag elections.
Can children vote?
No, only adults of legal age, i.e. over 18, may vote in federal elections. In many local elections and the state elections in the federal states of Bremen, Brandenburg and Schleswig-Holstein, the voting age is 16.
How many first-time voters will there be in 2021?
About 2.8 million men and women born between 25 September 1999 and 26 September 2003, will be eligible to vote for the first time in the 2021 federal election. That's about 4.6 percent of the approximately 60.4 million eligible voters.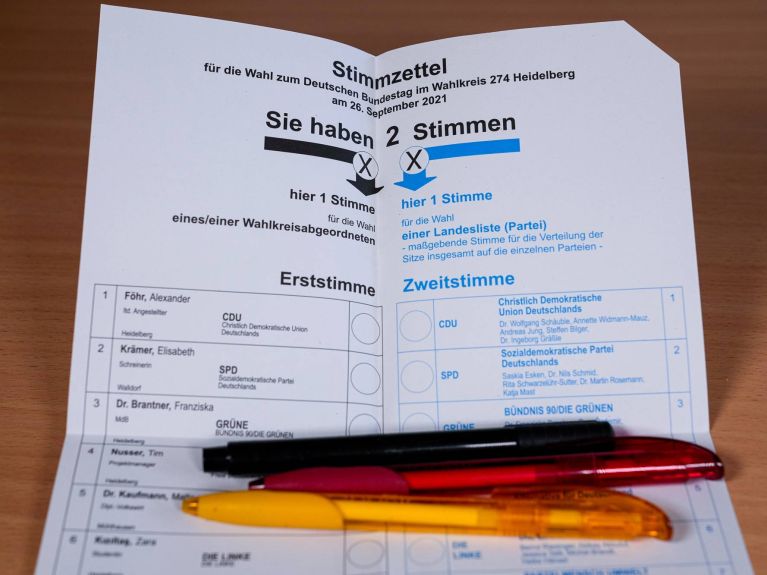 What do the ballot papers look like?
Each ballot paper has two columns. On the left-hand side, a direct candidate for the Bundestag representing the electoral district can be voted for directly with the 'first vote'. The right-hand column is for the 'second vote', which goes to a party and its state list in the respective federal state. The number of seats won by each party is calculated from these nationwide 'second votes'. The order of the parties on the ballot paper is based on their performance in the last federal election.
What is postal voting?
Anyone who cannot or does not wish to go to the polling station in person may exercise their right to vote by post; they do not have to give any reasons. To do this, they must apply to their local authority for a ballot paper. This can be sent by letter to the election office or placed in a ballot box there.
Find out more about the German landscape of political parties in our Special on the Bundestag elections.
 
You would like to receive regular information about Germany? Subscribe here: