The future of democracy
Democracy as a form of government: read where the strength of democracy lies in an exclusive essay by Federal President Frank-Walter Steinmeier.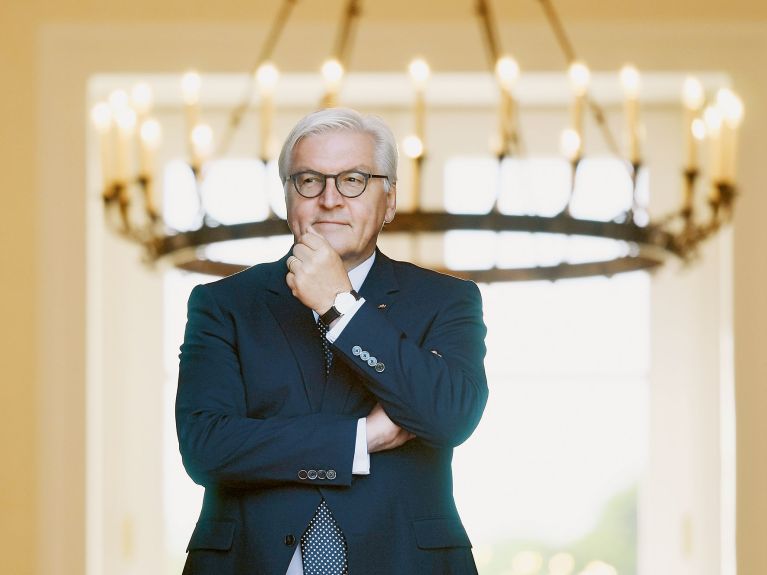 Today, if you are asked about the future of democracy or consider the form it will take in the future, you will soon see yourself surrounded by concerned souls, journalists, political scientists, historians and even politicians: "Democracy on the brink" and similar headlines dominate the front pages and book displays. Some talk of an existential crisis, while others believe we have already arrived in a post-democratic age.
Indeed, we are observing and experiencing phenomena that give grounds for concern: a growing fascination with authoritarian answers, the questioning of liberal achievements, feelings of resentment against parties and politicians and, finally, an increasing brutalisation of the language with which politics and its institutions are debased. We are experiencing all these things on both sides of the Atlantic. Some of them seem to be occurring at a safe distance, and yet, in the globalised world in which we live, they are never far enough away to no longer concern us.
If you consider the future of democracy when the political order is under such pressure, you will not be at a loss for questions: are our sometimes arduous democratic procedures still fit for purpose when swift decision-making is called for? Are democratic structures perhaps too cumbersome for refugee crises, famines or resource crises? Are democratic institutions being overstretched by technological revolutions, cultural tensions, social inequalities and ecological upheavals?
Passion and determination
When every political issue becomes a matter for the whole of humanity and the solutions always take on global dimensions, it is then only logical that many feel overtaxed or even overwhelmed by the enormity of such crises. Escapism or alarmism may not be very helpful responses, but they are certainly understandable. My advice therefore is: especially now, especially in the face of pressing ecological concerns, we should guard against playing down the capabilities of democracy compared to the alarming, even apocalyptic scale of the challenges we face. We should not follow those who promise to undo the proverbial Gordian knot with a sharp sword and a grand gesture, because very much more than the knot is likely to be damaged in the process of hacking it apart. In a democracy we should equally guard against playing one side off against another: for example, the passion and determination of young people on the streets against the apparent obsession with procedure and sober unhurriedness of democratic institutions. Especially now we must take advantage of what only democratic government can offer: a space for untying knots together. Passion and determination have just as much a place here as a readiness for dialogue and reason. Democrats must be both: radically prepared to reach an understanding and passionately reasonable.
Powerful force for renewal
And if, before venturing a glance into the future of democracy, we take a look back into its past, we will discover that rejections and repudiations of democracy are certainly not entirely new phenomena. Disasters, wars and problems of global dimensions that call for bold solutions on a global scale have not only existed since the discovery of climate change. What we will also find, however, is that democracy has been able to survive and assert itself when it has faced the greatest challenges. I would even turn around the questions of the doubters: which other form of government carries within it such a powerful force for renewal and continuous improvement – precisely because it permits errors and corrections? In a time when autocrats and self-appointed strong men are walking the world stage with increasing self-assurance I would advise us as democrats to remain calm in the realisation that the strength of democracies does not lie in their sense of mission, but in their capacity for self-criticism and for self-improvement.
Core functions of democracy, such as representation and participation, are not immutable constants. They are also subject to ongoing, democratic change. Political parties – in Germany, especially the so-called people's parties – are currently losing support within society; new movements, new forms of engagement, new actors, especially also on the Internet, are seeking a place within the culture of public debate. All this, however, is certainly not an expression of a general disillusionment with politics. On the contrary, we are living in highly political times. Otherwise it would be impossible to explain the latest civil society movements, including Fridays for Future.
I wish here neither to sound the all-clear nor play down the challenges or the centrifugal forces pulling us apart. No, at this time we must not assume that we – in Germany, in Europe, in the western alliance – have attained democracy for ever, but must again learn to stand up for democracy.
The optimism of democrats
For, obviously, the open democratic process also entails dangers as well as boundaries that must not be crossed. Democracy is either liberal or it is not a democracy. It does not exist without human and civil rights, without the rule of law and the protection of minorities. Germany history demonstrates how those who are prepared to relinquish these rights eventually abandon democracy. Our history demonstrates how a democracy without committed and courageous democrats will not survive.
The path that led my country, Germany, to liberal democracy has been convoluted and contradictory and involved disastrous aberrations and deep abysses. Our path to democracy would be inconceivable without the support and trust we received from our neighbours and partners in the world following the German crimes of the 20th century. Yet this path would be equally inconceivable without the roots of enlightenment, freedom and democracy within our own country. This year we Germans are celebrating the 100th anniversary of the Weimar Constitution, the 70th anniversary of the Basic Law and the 30th anniversary of the peaceful revolution and the fall of the Wall.
I believe we can be proud of these lines of tradition without turning our eyes away from the abysses. And we can be conscious of a historical responsibility for the rupture in civilisation without denying ourselves the joy of celebrating our country's successes. That is the core of an enlightened, democratic form of patriotism. It is not concerned with laurel wreaths or crowns of thorns. Democratic patriotism is not a cosy cushion on which to rest, but a constant stimulus. It is a stimulus for all those who do not say "The best times are behind us", but rather say "We want and can make a better future". That is the optimism of democrats – the attitude that I wish for us and our democratic partners around the world.
FEDERAL PRESIDENT FRANK-WALTER STEINMEIER
Frank-Walter Steinmeier was elected as the twelfth President of the Federal Republic of Germany in February 2017. Prior to that he served as Federal Minister for Foreign Affairs twice: from 2005 to 2009 and from 2013 to 2017. In the intervening years he was Chair of the SPD Parliamentary Group in the Bundestag. He has particularly devoted himself to the subject of democracy: since 2017 the Federal President has regularly invited German and international discussion partners from the realms of science, politics, culture, business and civil society to the Bellevue Forum on the Future of Democracy.
You would like to receive regular information about Germany? Subscribe here: