Germany in the 2010s
The current decade at a glance: these are the topics and events that have affected people in Germany.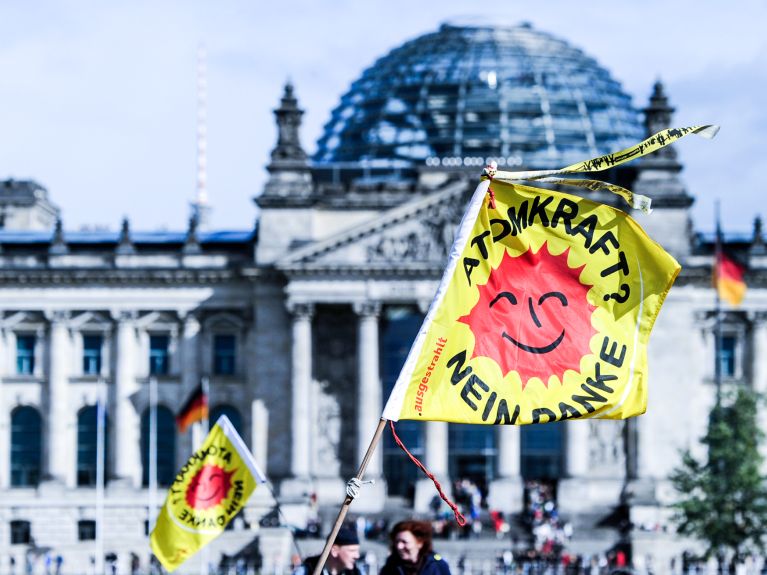 Energy transition and sustainability, migration, justice and fear of terrorism have affected and polarized people in Germany during this decade. But the country cheered together in the summer of 2014.
2011: Following the shocking nuclear disaster in Fukushima, Japan, Germany decides on a nuclear phase-out. All nuclear power plants should be closed down by 2022. The energy transition picks up speed: the power supply should be completely covered by renewable energies by 2050. In 2018 they covered more than 40 per cent of power consumption for the first time.
Compulsory military service is suspended in 2011. Since then the armed forces in Germany's Bundeswehr now consist of volunteers. In 2018 proposals were made to open up the Bundeswehr for specialists from other EU countries.
2013: Angela Merkel is elected Federal Chancellor for the third time in succession.
2014: At the Football World Cup in Brazil, Germany's national team wins 1:0 in the final against Argentina. It's the fourth time the country has won the World Cup championship title since 1954.
2015: January 1 marks the beginning of a minimum wage for workers. It is designed to protect them from wage dumping and promote social justice.
Chancellor Merkel receives the heads of state of the major industrial nations at the G7 Summit held at Schloss Elmau and calls for concerted efforts against climate change.
2015 is also seen as the year of the refugee crisis. Increasing numbers of people from war zones in Africa and the Middle East seek refuge in Europe. Germany takes in about one million refugees.
2016: A terrorist attack in Berlin shocks Germany. An Islamist terrorist drives a truck into the crowds at a Christmas market. Twelve people are killed and almost 60 are injured.
2017: During its German G20 Presidency, Germany organizes the G20 Summit in Hamburg. The key themes are free trade versus protectionism, climate change and global women's rights.
The Bundestag sends a signal against sexual discrimination and passes a bill on marriage for all. From October 2017 on, same sex couples can marry.
2017: The two major parties CDU/CSU and SPD sustain significant losses in the Bundestag elections. Following tough negotiations to form a government, a grand coalition takes office in March 2018. It is Angela Merkel's fourth parliamentary term as Federal Chancellor.
2018: Germany's economy is booming. The unemployment rate sinks to the lowest level (5.2 per cent) since reunification in 1990.
2019: Germany assumes major responsibility as a non-permanent member of the United Nations Security Council. And there's much to celebrate: 100th anniversary of votes for women, 100th anniversary of the Bauhaus, 70th anniversary of the Federal Republic and the 30th anniversary of the Fall of the Wall.
You would like to receive regular information about Germany?
Subscribe here: