"An increasingly important actor"
What has Germany's EU Council Presidency achieved? The director of the German Council on Foreign Relations explains.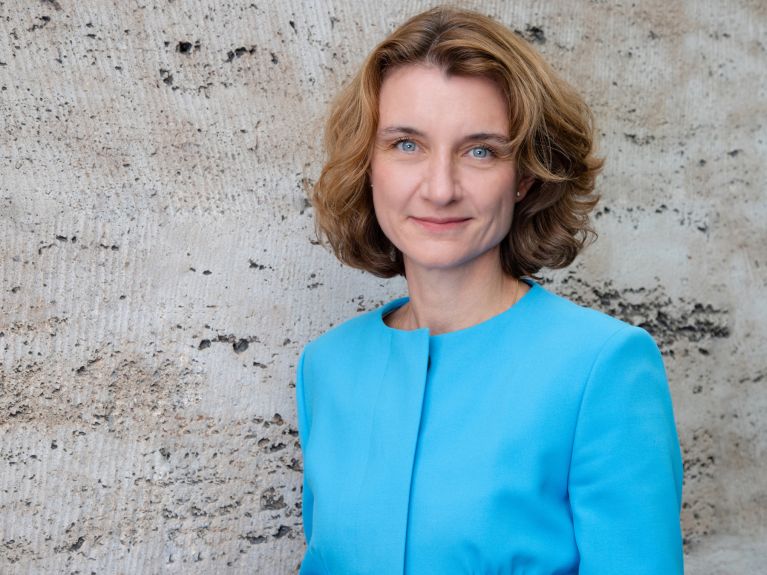 Dr Schwarzer, how would you sum up Germany's EU Council Presidency?
The Federal Government had to adapt very quickly to a Covid-19 presidency. The key issues were how to deal with the public health crisis, softening the effects of the economic crisis, and above all switching to extensive digital working methods ─ a major challenge, especially for complex negotiations. Numerous other priorities, such as the EU-China Summit with 27 European heads of state and government, had to be cancelled. The biggest achievement was the compromise on the Multiannual Financial Framework and the Recovery Fund, despite attempts by Poland and Hungary to water down the rules on member states violating the rule of law.
The Covid-19 pandemic showed, especially at the beginning, that the EU has some weaknesses. Which consequences will this have for the future, and which contribution can, and should, Germany make?
Once again it became clear that the integration process comes under pressure when the EU is unable to provide sufficient protection in a crisis. There are definite parallels with the financial crisis that began in 2008, when initial reactions began nationally and without coordination. When the virus first started spreading in Europe, the internal market borders closed, and medical supplies were hoarded. But the EU demonstrated its ability to self-adjust and is now cooperating in the joint provision of vaccines, the procurement of masks, and patients have been transported across borders for intensive care. The most important lesson is: If we promote the freedom of movement of individuals, we need to keep the protection of the population in mind, especially when it comes to health risks.
Why is it so important for Germany to stand up for a strong EU?
Germany has built its economic model based strongly on exports and cross-border supply chains, especially within the EU. So strength relies to a large extent on the internal market and the monetary union which protects the euro from exchange fluctuations. In addition to this, the EU is becoming an increasingly important political actor, abroad as well. In a world that is being increasingly shaped by geopolitical and geo-economic tests of strength, the Europeans can protect their interests better and shape the international order more effectively by cooperating and acting together.
Dr Daniela Schwarzer is Director of the German Council on Foreign Relations (DGAP). Between 2008 and 2013 she headed the research group on European Integration at the German Institute for International Security Affairs. Her work during that time included advising Poland and France during their EU Council Presidencies.