Back home again
Three people and their new starts in Ghana, Iraq and Senegal: with German support, they now have a future in their homelands.
Helen Sibum / 20.11.2020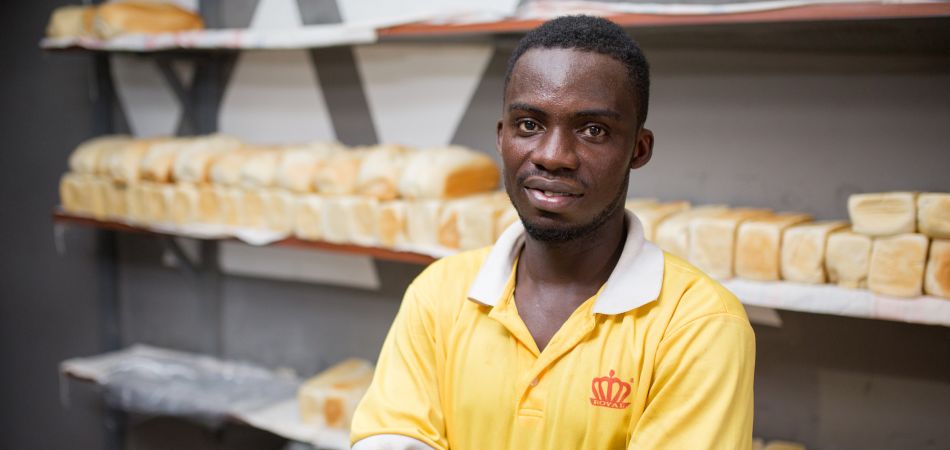 The "Perspektive Heimat" program of the Federal Ministry for Economic Cooperation and Development (BMZ) supports partner countries in improving people's living conditions and in creating local opportunities for people to stay in their homelands, especially services for education, training and work. The German Society for International Cooperation (GIZ) GmbH is responsible for implementing the program. Three examples.
Faida from Ghana
To live the life of a professional footballer in Europe – that was Faida's dream. When he was allowed to take part in a tournament in Norway, he saw his chance: he travelled from Norway to Denmark and then to Germany. But he didn't get any further in terms of sport and his application for asylum was rejected. Two and a half years after leaving Ghana, Faida returned to Accra. The Ghanaian-German Centre for Work, Migration and Reintegration supported him and enabled him to take start-up training. Today the 23-year-old Ghanaian runs a bakery. "I'm happy because I earn my own money", he says.
Touty from Senegal
Touty is one of those people who don't leave their homeland but instead look for new opportunities in their own country. The owner of a clothing shop, she was able to set up her own fashion brand and open a tailoring business through the BMZ program "Successful in Senegal". She now employs 20 people. In the coronavirus pandemic, she has switched production to mouth and nose masks. "I hope that I can continue to support my country by creating job opportunities."
You would like to receive regular information about Germany? Subscribe here: