Empowering women worldwide
She only just survived the terror of the IS: Nobel Prize winner Nadia Murad explains how important equality of women worldwide is to secure peace.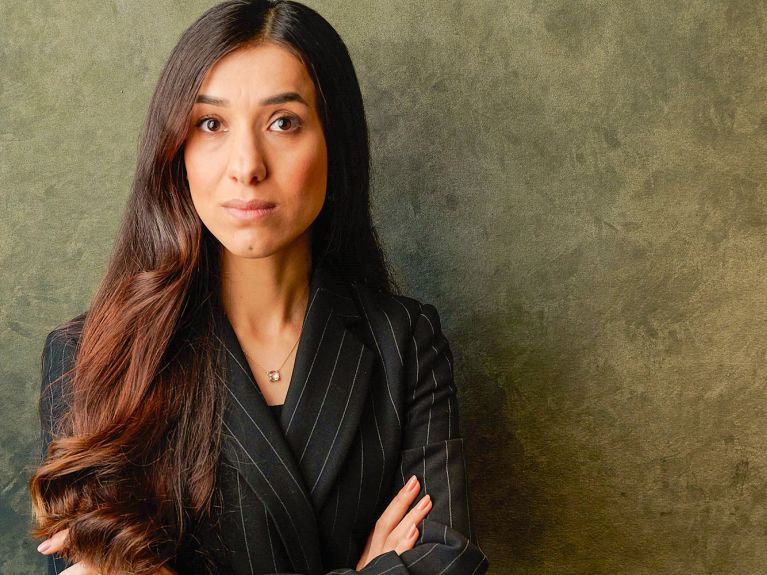 In her homeland, Iraq, the Yazidi Nadia Murad barely survived the terror of the Islamic State and came to Germany through an offer of help. Since 2016, she has been the United Nations' first Goodwill Ambassador for the Dignity of Survivors of Human Trafficking. In 2018, she received the Nobel Peace Prize for her commitment.
This year's 2022 International Women's Day campaign urges us to imagine a gender-equal world. But I say that we need not imagine it. We must take it onto ourselves to forge it, starting now.
I once imagined a life very different from the one I lead today. But the reality is that the unequal world we live in —plagued by war and violence— carved out a very different path for me. Today, however, I proudly use my voice to advocate for those women who, like me, had their dreams taken for them. I use my voice so one day, when gender equality is indeed a reality, no woman or girl will have to forgo their aspirations in favour of preserving an unequal status quo.
If your dreams are being shattered
From a young age, I recognized that gender plays a vital role in individual experiences. I grew up seeing the hardships my single mother faced in our homeland of Sinjar, Iraq, where she endured not only gender, but also religious discrimination. Despite that discrimination, she fearlessly stood up for herself and her children and refused to conform to men's expectations. I learned from her courage. As a young girl, I knew I wanted to follow in my mother's footsteps. I would not conform to societal norms. I would follow my dreams, as she encouraged and inspired me to do.
But those dreams were soon shattered. I was a young woman when the so-called Islamic State (ISIS) began targeting my Yazidi community in 2014 — a brutal attack the United Nations has declared a genocide. Thousands of Yazidis were massacred in Sinjar, including my mother and six of my brothers. Roughly 400,000 fled on foot to Sinjar Mountain and the neighboring Kurdistan Region. In the panic to escape, families were separated. Individuals fled with only what they could carry.
They faced thirst, starvation, and blistering temperatures that took even more lives. In addition to the murders, ISIS took more than 6,500 Yazidi women and children captive. The majority, including me, were subjected to sexual slavery. We were bought and sold like objects. Eventually, I was able to escape and made it to a refugee camp. I have since received asylum in Germany, a country that today I am proud to call my adoptive home.
But others were not so fortunate. Almost eight years later, nearly 2,800 women and children are still missing or in captivity. Hundreds of thousands who fled and escaped ISIS remain unable to return to Sinjar. We are still rebuilding, piece by piece.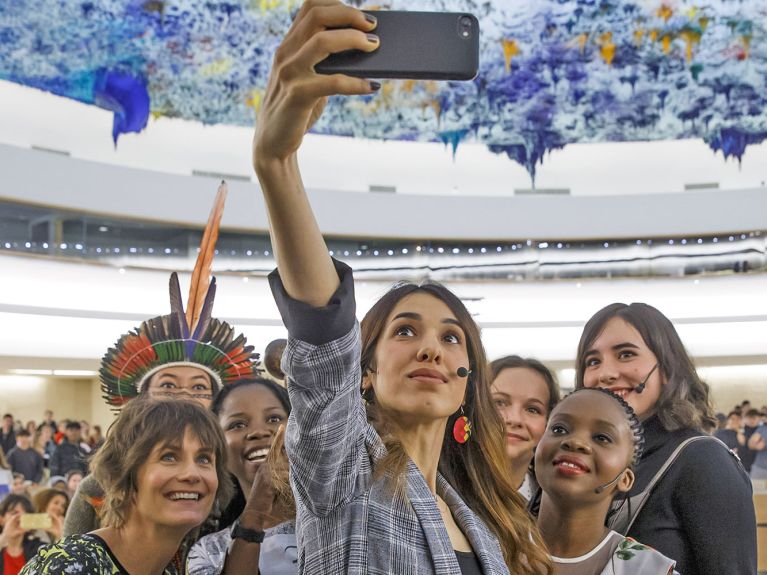 Fighting gender-based violence
The targeted sexual violence against Yazidi women was no accident, no side effect of conflict. It was one of ISIS' primary weapons. They fully understood the impact of gender-based violence. Assaulting women's rights —including, but not limited to assaulting them sexually— disrupts communities and stunts economic development.
It is a pattern we see around the world. When women are marginalized, it destabilizes communities. Just as ISIS knew that women and girls play a central role in the stabilization of society, so too should they have leading roles in rebuilding and reshaping that very society. Too often, decisions are made for women, especially survivors of sexual violence. They are handed empty promises by governments and organizations that exclude them from decision-making.
That is why today, in addition to my advocacy on behalf of survivors of genocide and sexual violence, I also lead Nadia's Initiative, an organization dedicated to creating a world where women can live peacefully, and where communities that have experienced trauma and suffering are supported and redeveloped. We have two main goals. The first is to make vital resources and services accessible in my homeland, a place that has experienced tremendous loss and suffered grave injustice. The second is to advocate for policy reform globally that will prevent gender-based violence in conflict zones and provide necessary support to those who were victims of such abuse.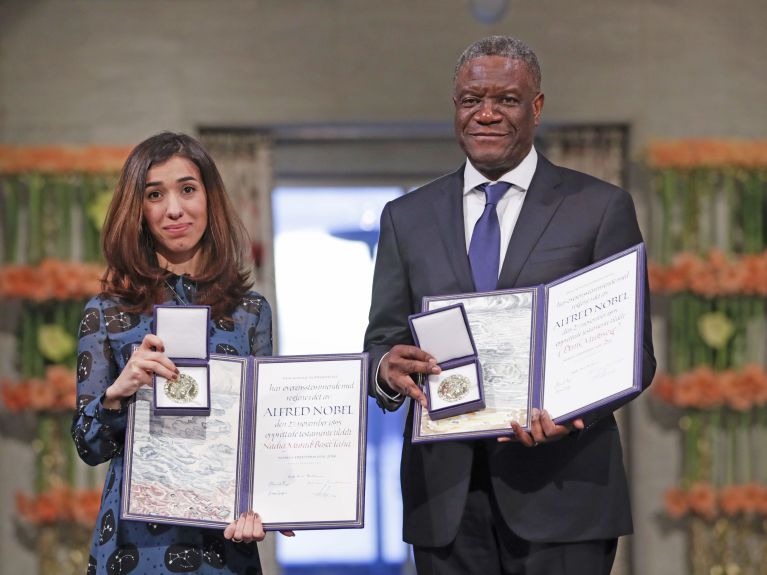 With support from Germany's development agency (GIZ), for example, we rehabilitated 438 female-headed farming households and provided them with supplies and training in sustainable agriculture practices. That same year, we launched the first ever small business incubator for women in Sinjar, targeting 57 survivors of ISIS captivity. The project was such an immense success, that we launched a second round of support for another 50 women in Sinjar.
Women empowerment as a central field to enact change
Women are integral to the solution. Survivors know best what they need —and what their communities need— to heal and recover. We cannot separate survivor support from the greater rehabilitation of the Yazidi community any more than we can separate sexual violence from the broader systems of gender inequality. Women have so much to contribute, but we are only empowered to do so if our basic rights are respected.
Without gender equality, our ability to enact change is limited. Our ability to prevent anyone else from enduring what I and my community went through is limited. We must proactively work to achieve gender equality, because without it our quest to end gender-based violence, to ensure that no one is forced to flee their home due to such violence, may fail. And that is unacceptable.
Whether it be through encouraging political engagement, strengthening policies in the workplace, or electing women to lead the nation, Germany is already an incredible example to others. But we must not rest, until those rights have been extended to all women in all communities in all countries around the world.
We must think about how every one of us, individually, organizationally, and on a national level, can contribute to help reaching this goal. It takes a global village to ensure that women have equal rights and are represented and respected as decision-makers and leaders. We can change the world by investing in women and girls, preventing violence against them, and providing them with opportunities to share their voices, stories, and ideas. 
I have faith that Germany will continue to lead by example and encourage others to make meaningful progress — both in holding human rights violators to account and offering women a seat at the table, so we can take an active role in bettering our societies. I have faith that many other countries will enact policies that support women and eliminate the use of gender-based sexual violence in conflict zones, because I know that women decision-makers and their male allies will be pushing them to act. People who know that together, we can all rise. That together, we can create the better world we want. That together, we can prevent anyone else from experiencing what I and my community suffered and survived through.
Women's capacity as powerful leaders
I am comforted by knowing that today, due to the myriad of examples of women from all over the world, there is no longer any doubt in women's outstanding capacity to be effective and powerful leaders in every field. Our skill, however, must not be compared as "equal to a man's", but rather on its own merit.
My fellow women constantly remind me of where exactly our talent lies in everything we do: our nurturing and compassionate nature, our empathy towards others and our ability to lead by example. Our participation and leadership in building resilient nations and communities has been proven, but now it must be acknowledged by those who still cling to a power imbalance that favours only them. It is high time to admit that more of these innate female qualities we bring to the table are very much needed within the realm of international politics and development, if we truly want to create a world that's diverse, equitable, and inclusive.
More about Nadia's Initiative: https://www.nadiasinitiative.org/