Berlin Security Conference
The Berlin Security Conference (BSC) is an important platform for European security and defence policy. Three questions for Minister of State Michael Roth.
28.11.2016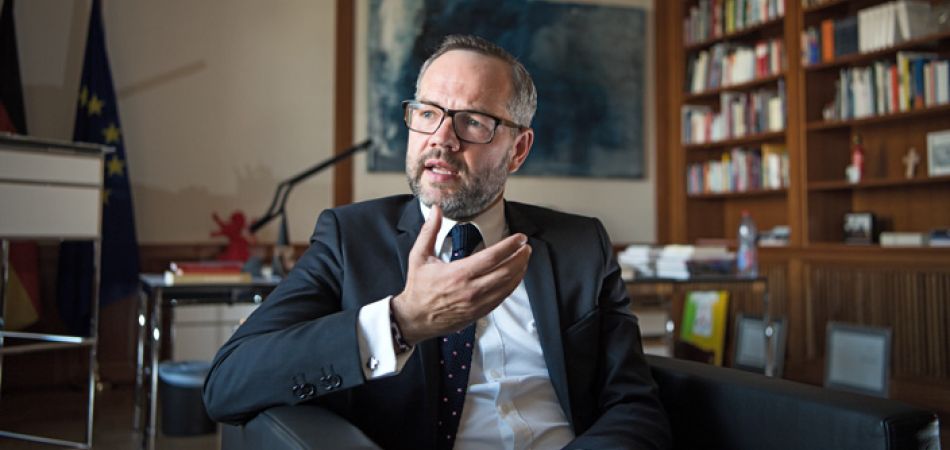 Mr Roth, you are due to attend the Berlin Security Conference and you are also a member of the advisory board. Why is a Minister of State for Europe such as yourself taking such a strong interest in security and defence policy? Isn't that rather something that falls within NATO's remit?
Security and defence policy must be one of the European project's central priorities. Europeans rightly expect a great deal of Europe, and especially in the area of security and defence. I take this seriously and consider this to be an essential part of European cooperation. This is not – contrary to the claims we keep on hearing – part of a project to militarise the EU. The extent to which the EU's foreign policy role will change after the elections in the US remains to be seen. 
European security policy cooperation has a long history. When NATO was in its infancy, the founding members of the European Community already had security issues on their minds. Today, the EU's Common Security and Defence Policy (CSDP) encompasses all of the important issues in this field. The EU has a number of strengths and instruments that it can draw on in this respect to help resolve conflicts and crises – not in competition with, but as an addition, to NATO.
You are going to open the conference together with your French counterpart. What is the status quo of Franco-German cooperation in this area? 
France is our most important foreign and security policy partner. If the Franco-German motor is running well, then the EU as a whole always stands to benefit. We have recently submitted far-reaching joint proposals across the entire spectrum of security and defence policy, including a paper by our Foreign Ministers entitled "A strong Europe in world of uncertainties" in June, as well as a joint letter from our respective Defence Ministers to Federica Mogherini, the EU's High Representative for Foreign Affairs and Security Policy, in September. These proposals were well received by the other member states in the Council. 
Our common response to the brutal attacks in Paris last year was an expression of this especially close cooperation in a spirit of solidarity. The French Government had, for the first time in the history of the EU, requested assistance from the other member states after an armed attack. And Germany offered its support swiftly and proactively, for instance by stepping up our military engagement in Mali in order to relieve the burden on the French armed forces in the region. Moreover, we are supporting the Global Coalition to Counter ISIL with aerial reconnaissance measures, air-to-air refuelling and with reconnaissance elements of AWACS, and have also contributed a frigate to escort the French aircraft carrier Charles de Gaulle.
What impact will Brexit and the US elections have for Common Security and Defence Policy in Europe?
It is now up to the UK to tell us how it envisages its EU relations – and therefore also our cooperation in the area of Common Security and Defence Policy – to look in the future. While we would like to maintain strong relations with the UK also in the future, the cohesion of the European Union continues to be our number-one priority.
Our response to the election result in the US is quite similar. We have made it clear that our transatlantic relations are primarily based on values. Many of the new US Government's positions remain entirely unclear. However, after the elections, it is clear that Americans and Europeans need each other. We must reach an understanding within NATO and ensure that this continues to be an alliance of solidarity. The US and the EU need common positions in order to shape globalisation. Irrespective of policy changes, our strong economic, social and cultural relations will remain in place. 
And conferences such as the BSC, to come back to your first question, are an excellent platform for the discussions that we are going to have about this.
Berlin Security Conference on 29 and 30 November 2016