Rescuers in a dilemma
Europe discusses the role of private maritime rescuers in the Mediterranean. This is what it is all about.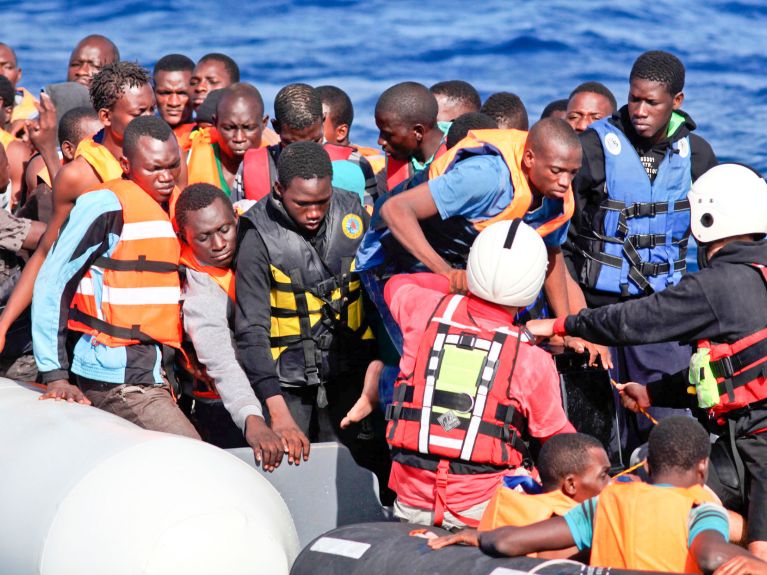 Several German non-governmental organizations (NGOs) are engaged in rescuing refugees in distress at sea. But now only a few private helpers in the Mediterranean are underway because their ships have been confiscated or are no longer allowed to head for southern European ports. The Italian government and other critics accuse them of using their missions to boost the business of human traffickers, or even working directly with them.
How is it decided who can rescue refugees in distress at sea?
That is a job of the state. Seas are divided worldwide into so-called search-and-rescue zones, SAR for short. So far, the SAR control centre in Rome decided which ships to rescue where in the Mediterranean. Now that's changed. The Libyan Coast Guard has been trained and equipped by the EU to relieve Italy in the taking in of boat people. Libya has had its own SAR zone since June 2018. It extends to international waters, where ships from NGOs are also on the move.
What does that mean for the rescuers?
Libya is now coordinating the rescue operations off its coast itself and deciding where to bring boat people. According to the UNHCR refugee agency, around 12,000 people were returned to Libya in 2018. For NGOs this is a conflict: on the one hand, maritime law requires captains to follow the instructions of the SAR control centre; at the same time, it obliges them to bring shipwrecked people to a safe haven. Relief organizations such as Doctors without Borders or Human Rights Watch have, however, reported over-crowded accommodations in Libya, where refugees are housed in inhumane conditions.
What aid organizations are currently active in the Mediterranean?
On 1 August 2018, the rescue ship Aquarius, operated by SOS Méditerranée and Doctors without Borders, set sail again from Marseille. Recently, only one Spanish group has been sailing off the Libyan coast. All other NGO ships, such as Sea Watch and Lifeline, are either in Italian or Maltese ports or have ceased their operations for security reasons. Where the Aquarius can bring rescued refugees is unclear.