Germany's youngest voice at the UN
Having your say and shaping the world! How the student Lukas Schlapp wants to use the opportunity of a speech before the United Nations.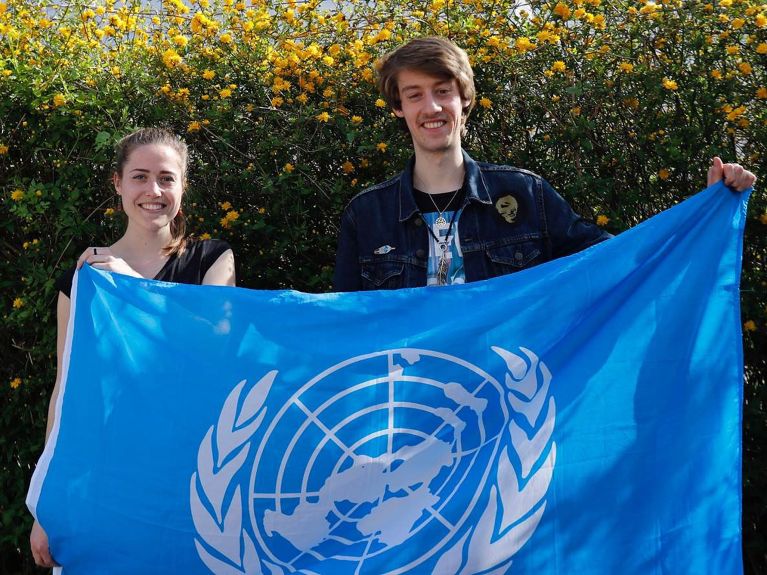 What does the United Nations actually do? Lukas Schlapp has been thinking about this question for several years. He is one of the two German youth delegates representing young people's interests at the UN General Assembly in 2018. The 22-year-old inhabitant of Frankfurt, who is studying art history and political science, will address 250 diplomats in New York in October. Which topics does he consider important?
Lukas, why did you apply to participate in the UN General Assembly as a youth delegate?
At a conference with former youth delegates in 2016 I was amazed by their work. I really couldn't imagine how these young people managed to do all that while they were studying or training. At that time I already made up my mind that I wanted to take part too. Then, in December 2017, I applied. The application as a youth delegate involves a letter, a telephone interview and a two-day selection process, which is like a visit to an assessment centre. This year there were roughly 100 applicants from Germany.
What are the duties of a UN youth delegate?
At the UN General Assembly in New York we represent young people in Germany. We have the right to speak and negotiate in the Third Committee of the General Assembly. In other words, we are allowed to contribute to drafting resolutions when they involve youth issues that are important to us. In February we are travelling to New York again for the UN Commission for Social Development.
Which topics are especially important to you?
We are currently travelling around Germany and listening to what young people consider important. Many name the issues of peace and climate protection. My personal interests are above all environmental protection and animal welfare. Antonia Kuhn, the second German youth delegate, is active in the field of human rights.
How do you rate Germany's role in the United Nations?
Germany's push for a broader concept of security that encompasses the whole planet is very important. We face an enormous challenge – above all, as a result of climate problems. I think it's good that Germany is taking more and more international responsibility.