Women at the United Nations
Ursula Müller is the highest-ranking German woman at the UN. Women are underrepresented in leadership positions at the UN. The aim is to change this.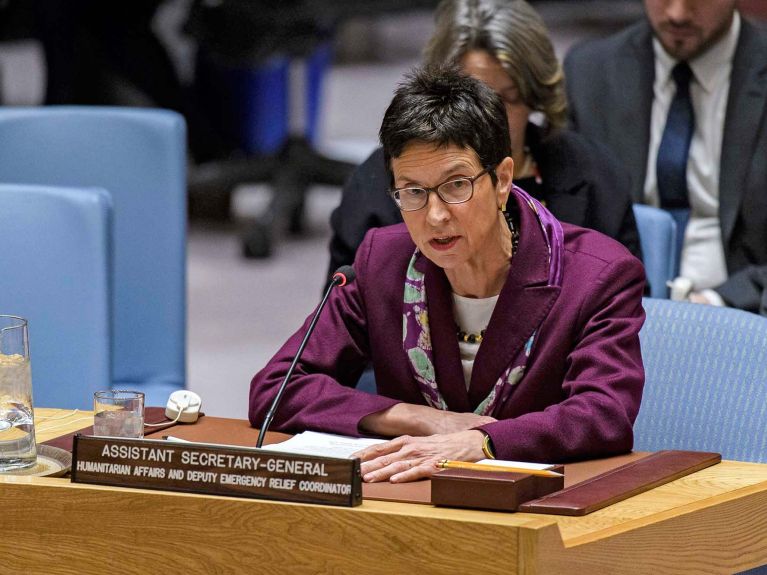 When Kofi Annan stepped down in 2006, he hoped for a female successor. That did not happen: Ban Ki-moon from South Korea became UN Secretary-General – and remained in the office for ten years. Then António Guterres took up residence on the 38th floor of the UN building in New York – making for a 73-year-old global organisation with nine men at its helm. The top position at the UN remains firmly in male hands.
UN General Assembly "concerned" about low female quota
The two levels below are also very much a male domain – with men still holding more than 70 percent of the positions in early 2017. And this despite the fact that the General Assembly has expressed "concern" about the low proportion of women on multiple occasions since 1990.
It's not only about fairness – there are also genuine political reasons why the proportion of women should be higher: peace missions have a more lasting impact when more women are involved. And much the same applies to development progress.
The goal: gender parity at the UN by 2028
Consultant firm McKinsey has calculated that global economic growth could increase by eleven percent per year if women were better integrated into working life. For an organisation committed to equal opportunities, it is about more than simple arithmetic, in other words. Guterres has declared gender parity as a goal throughout the UN system by 2028.
Ursula Müller believes in equal opportunities
In the past ten years, Germany has almost always been represented by a woman at the level below Secretary-General: first by Angela Kane, who until her retirement was last responsible for disarmament, and since 2017 by Ursula Müller, the Assistant Secretary-General for Humanitarian Affairs.
Alongside UNDP Administrator Achim Steiner, Müller is the highest-ranking German within the UN. She has more than 30 years of international experience, acquired at places such as the World Bank, the Federal Foreign Office and the Development Ministry.
She also sees the need for the UN to catch up in terms of equal opportunities: "We are definitely lagging behind at the UN." Now, she says, women need to be even better supported "so that they can advance and take on more leadership responsibility". Müller does not believe that the rise of populism poses any risk of a retrograde development. "I am firmly convinced that the proponents of equal opportunities and diversity are much stronger and will come out on top."