Germany takes stand at World Cup
Germany's Federal Minister of the Interior Faeser and national football team oppose FIFA's ban on the "One Love" armband.
24.11.2022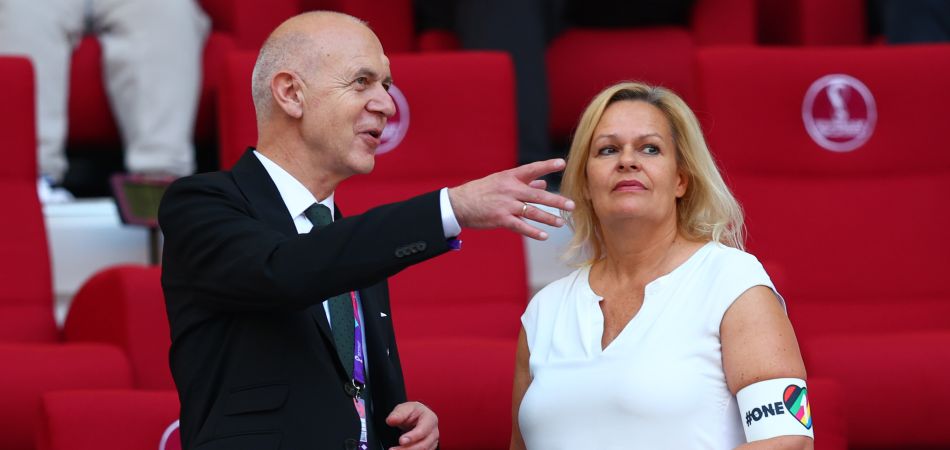 Al-Rayyan (dpa)- At the World Cup in Qatar, German Federal Minister of the Interior Nancy Faeser has taken a stand for openness and diversity by wearing a "One Love" armband. Faeser wore it in the stands during Germany's opening match against Japan. Before kick-off, the players also made a statement: when the team photo was taken, all of them held one hand over their mouths as a message to the world governing body FIFA, which had banned the "One Love" captain's armband worn by Manuel Neuer and six other European team captains under threat of sanctions.
Germany lost the match against Japan 1:2, which means that national coach Hansi Flick's squad will already be under enormous pressure in the second match against Spain on Sunday, as a second defeat would risk a premature World Cup exit.
Federal Interior Minister Faeser described the FIFA ban on wearing the "One Love" armband as a "big mistake" and "unacceptable". She said it was not okay "to interfere in a tournament in such a way. I hope that it will be legally clarified whether it is permissible to impose sanctions at all," Faeser said on ARD television.
The German Football Association said human rights were non-negotiable. "That should be taken for granted. But unfortunately it still isn't the case. That's why this message is so important to us. Denying us the armband is the same as denying us a voice."