Steinmeier opens "Diversity United"
In huge hangars, the Berlin exhibition aims to showcase European diversity in all its art forms.
09.06.2021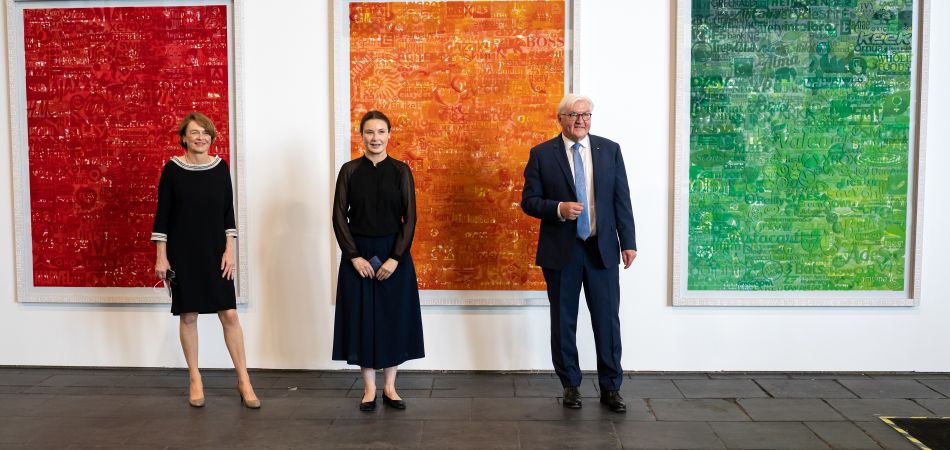 Berlin (dpa) - For a few months, the former Tempelhof Airport will be the focus of cross-border contemporary culture. On Tuesday, Federal President Frank-Walter Steinmeier opened the Russian-French-German exhibition "Diversity United" in Berlin. In the huge hangars, around 90 young as well as established artists from 34 countries will be giving an overview of the current art scene that is well worth seeing. To do so, they will be drawing on all kinds of forms: "Diversity United" features painting, sculpture, video and new media, photography, installation, drawing and object art. Curators from Germany, Finland, France, Great Britain, Austria and Russia will ensure the diversity of viewpoints and perspectives.
"This exhibition is unusual because of the diversity of the art we are seeing here. But it is also unusual on account of the expressive power of the works," said Steinmeier after a tour of the halls. He described it also as "an expression of the self-confidence of art and artists in Europe". They work "intentionally across borders". Many of the artworks, he said, deal with democracy and its endangerment, with globalisation and migration, with division and solidarity "and much more, up to and including climate change". The exhibition, which is on show in Berlin until 19 September, will then be presented in Moscow and Paris.
More about arts and architecture